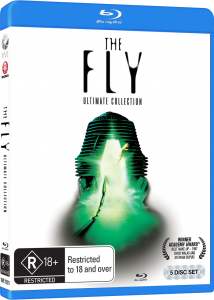 October 2017 saw the release of five creature features centred around the most common of household pests; packaged together on Blu-ray under the eye-catching title of The Fly Ultimate Collection, from Australian distributor Via Vision Entertainment. Being today is the ominous Friday the 13th, one of only two such occurrences for 2018, the time could not be better to review the almost 8 hours of science-fiction terror across five discs.
The Fly (1958)
Without question, a staple within its respective genre and one that still retains some shock value despite it being now sixty years old. Regarded as one of Vincent Price's most popular titles, the horror icon is not the star of this picture as many of you (myself included) may have been lead to believe, but a noted supporting player to a scientist who experiences a horrific accident with his breakthrough teleportation device. Presented in CinemaScope and with Colour by Deluxe, this release looks stunning in high definition, enabling viewers enjoy the film's full effect on modern big-screen television.
Special Features: Audio Commentary with actor David Hedison and historian David Del Valle
Return of the Fly (1959)
Unfortunately, in the case of many sequels there's a significant dip in quality with Return of the Fly, which follows the son of our original ill-fated protagonist vowing to continue his father's work against the wishes of his uncle François, played by Vincent Price. Suffice to say, ol' Harry the House Fly is having none of it and what unfolds is an enjoyable but lesser rehash of what came before.
The Curse of the Fly (1965)
Feeling quite far removed from the previous two films, the family line of work continues, but this time the lab must have been spayed because there's not a pesky fly in sight; just a terrifying hidden secret which gives this final instalment a rather dark edge. While I admit, this wasn't the easiest film to sit get through, points must be given for once again for keeping in line with the futility of this scientific endeavour and the gruesome results it continues to produce.
The Fly (1986)      
David Cronenberg proves to be a glove-like-fit for this vastly superior and extremely grotesque remake, starring Jeff Goldblum as eccentric scientist Seth Brundle, who just like his 50s counterpart become one with fly. However, this film's focal point is the slow and horrifying transformation from man to something we're never seen nor could have possibly imagined. Winner of Best Make-Up at the 59th Academy Awards, the prominent use of particle effects holds up remarkably well and have since become the film's big selling point. For more of my thoughts on the The Fly, click here.
Special Features: Audio Commentary, Fear the Flesh: The Making of The Fly, The Brundle Museum of Natural History, Deleted Scenes, Written Works, Film Tests, promotional Materials and Still Galleries
The Fly II (1989)
Audiences were left with a big unanswered question in The Fly, and leaving it that way would just fine in the eyes of most, but three years later the inevitable sequel came to pass with Eric Stoltz as the genetically altered son of Seth Brundle; five-year-old Martin, who is being housed inside a research facility due to his abnormal inheritance. Coming in at only 4.9 on IMDB, don't let this score discourage you because in all honestly it's decent follow-up, which works best as a B grade monster movie with ample gore to boot.
Special Features: Audio Commentary, Deleted Scenes, Alternative ending, Documentaries, Featurettes, Story-board-to-film Comparisons, Trailers and Still Galleries
Spanning just over thirty years, The Fly Ultimate Collection is a comprehensive set that shows how two distinctive decades in science-fiction/horror both differ and mirror one another. Retailing for around $89 in stores and online, these five remastered classics are perfect for ushering in the late night hours, especially today on this calendar event for genre fans!
★★★★
You can follow cinematic randomness on Twitter and Facebook where you'll find all my cinematic exploits. Thank you for visiting!