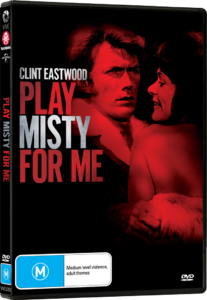 I've been a Clint Eastwood fan for many years, his over-the-top final kill as 'Dirty Harry' in The Dead Pool was one of my earliest movie memories. While he's made countless films since retiring the iconic character, it's never too late to revisit his early classics such as his directorial debut Play Misty for Me, new to DVD from Via Vision Entertainment. Clint stars as a popular radio disc jockey named Dave Garver, who embarks on a sudden affair with a sultry fan with a psychotic obsession.
I first watched Play Misty for Me in early 2017, during a casual binge on several Clint Eastwood classics. I thoroughly enjoyed the seminal thriller for what is, but the film strays for a good portion which points to Eastwood finding his feet as a filmmaker. His character of Dave is a reasonably down-to-earth guy, quite humble despite his popular on-air persona, but he's a man between relationships with a wandering eye. Number-one-fan Evelyn (Jessica Walter) quickly enters the picture through an orchestrated run-in with Dave at his favourite bar. Cleverly, and in a subtle fashion, Eastwood always keeps the focus on Evelyn, even when she's a mere figure in the background, allowing her true nature to appear obvious to the audience from the get-go, while Dave is initially oblivious. With the plot unfolding, Evelyn's behaviour becomes more extreme and spontaneous which stems from Dave's casual attitude towards their affair. I couldn't help but be reminded of the 80s staple thriller Fatal Attraction, which is a much more refined version of this type of story, but that comes highly influenced. We get a break from the romantic chaos when Dave's old girlfriend Tobie returns, a welcome reminder of what normal feels like. Strangely this melodramatic interlude becomes a series of prolonged sequences of slow walks during sunset to tender musical tracks. Clint Eastwood's ability as an actor is debatable despite a couple of Oscar nominations and while this was only 1971, he's pretty genuine as Dave, playing it cool for the most part and you can tell he's really trying. Jessica Walter is just sensation as Evelyn and Play Misty for Me is really her film in that regard. She's terrifying from start to finish and plays an individual with a proclivity for obsession and homicide remarkably accurate.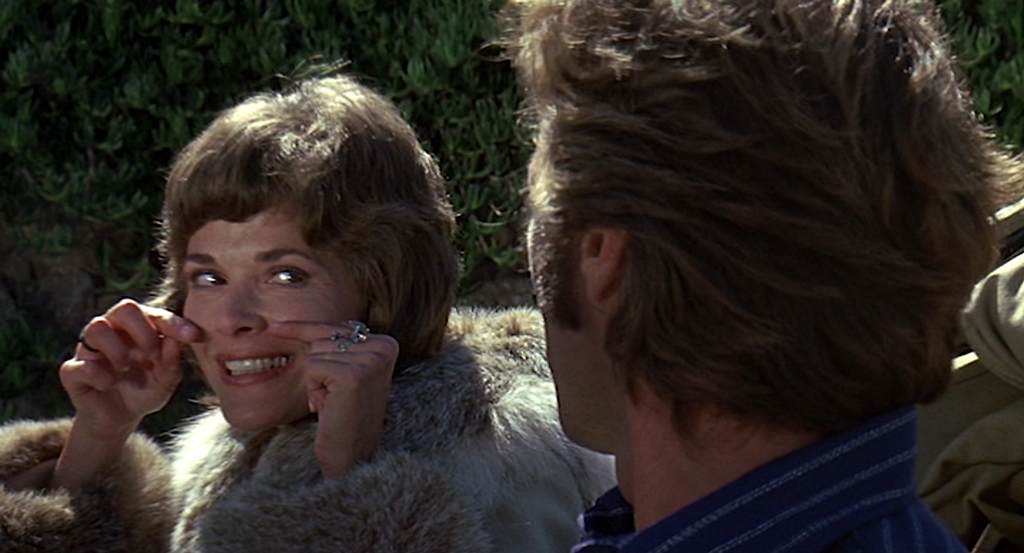 VIDEO AND AUDIO
Most of Clint Eastwood's films have generally been well looked after over the years under the safely of major studios such as Universal and Warner Bros. and Play Misty for Me is no exception. Presented in a very clear and clean 16:9 NTSC image, it not the brightest of transfers, but I feel that's more to do with the film's tone and subject matter. I couldn't find any information regarding audio printed on the case, but based on what I hear, I think it's safe to presume that it's your standard Dolby Digital 5.1 track.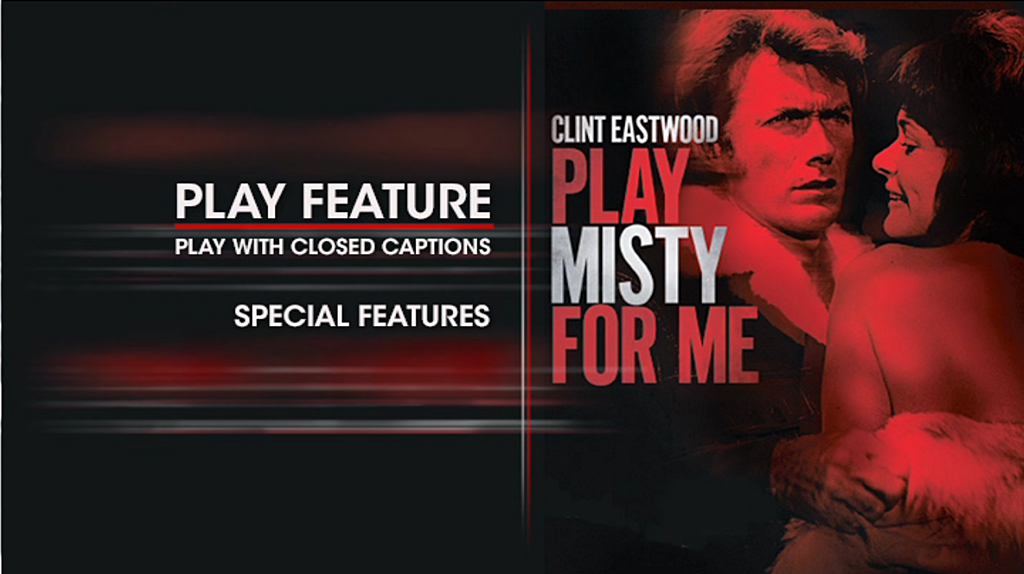 SPECIAL FEATURES
Play It Again: A look back at Play Misty for Me (49:00)
The Beguiled, Misty, Don and Clint (6:13)
Photographic Montage (3:54)
Clint Eastwood Directs and Acts (2:03)
The Evolution of a Poster (2:38)
Original Theatrical Trailer (1:43)
Via Vision Entertainment has loaded up this disc with a variety of bonus content, serving as a crash-course in Eastwood's formative years as a Hollywood heavyweight. Play It Again: A look back at Play Misty for Me is an informative retrospective piece on the classic thriller, while The Beguiled, Misty, Don and Clint looks at the collaborative relationship between filmmaker Don Siegel and Clint Eastwood; the master and the apprentice. Photographic Montage and Clint Eastwood Directs and Acts are simply a series of production and behind the scenes photos set to some smooth lounge music, with a final montage of photos featuring actress Jessica Walter that were used to make the film's theatrical poster.
Play Misty for Me deserves its place among the all-time great psycho-thrillers, which was set in Clint Eastwood's native Californian home of Carmel where was elected mayor from 1986-1988.
PLAY MISTY FOR ME
(1971, dir: Clint Eastwood)
★★★★
Head over to the Via Vision Entertainment Facebook page for the latest releases, giveaways, great deals and more!
direct dvd screen captures
You can follow cinematic randomness on Twitter and Facebook where you'll find all my cinematic exploits. Thank you for visiting!