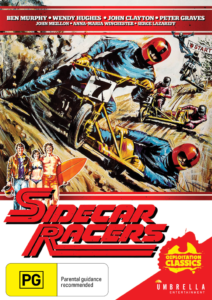 It never ceases to amaze me what Umbrella Entertainment manage to unearth when it comes to Ozploitation cinema. One of their latest acquisitions is the little-known classic Sidecar Racers, which made its debut on DVD back in May. Offering a casual yet thrilling glimpse into the world of sidecar motorcycle racing, a seasoned racer, Dave Ferguson, and an American surfer, Jeff Rayburn, team up to compete in the Australian speedway circuit.
Richard Irving, the film's producer and vice-president at Universal Pictures, got the idea for the youth-centric flick after attending a sidecar race in Sydney; he thought the peculiar team sport "captured the Australian spirit . . . the sense of fun, a certain recklessness, energy and the desire to win". Keen to capitalize on the success of American Graffiti, the studio produced the film on very modest $750,000 budget, only for it to underperform at the box office. If you knew nothing at all about the film, you would naturally assume it was a made-for-TV production, due it's low production standard and the style in which it was made. Nevertheless, Sidecar Racers is by no means a bad film, in fact, it's quite enjoyable on a couple of levels. Dave, Jeff and Dave's girlfriend, Lynn, are the film's dynamic trio who live by their own rules in the tamest way possible. Tension is ever-present between Dave and Jeff, which stems partly from Lynn and the film flirts with the idea of a love triangle but never ends up going there. Past tragedy and un-fulfilment fuels our two racers as they work to become a formidable team on the track, while we become acquainted with the niche community and culture, built mostly around sheer devotion. Performances are a little odd, or unbalanced might be more accurate, but that's half the fun of Sidecar Racers. John Clayton, Ben Murphy and Wendy Hughes are all fine as three lead players, while Australian screen veteran John Meillon pops up in a notable supporting role. Peter Graves randomly appears as Lynn's American father, Carson, presumably as a familiar face for North American audiences. Some very choppy editing had me thinking I bumped the 'chapter skip' button, but this didn't hinder the racing scenes which are without a doubt the film's true highlight. Shot up close and very personal, it's easy to get a sense of the danger involved and the frightening speeds of which the bikes are travelling. Despite a low budget, these thrilling sequences really ramp up the level of excitement giving the film a real sense of authenticity.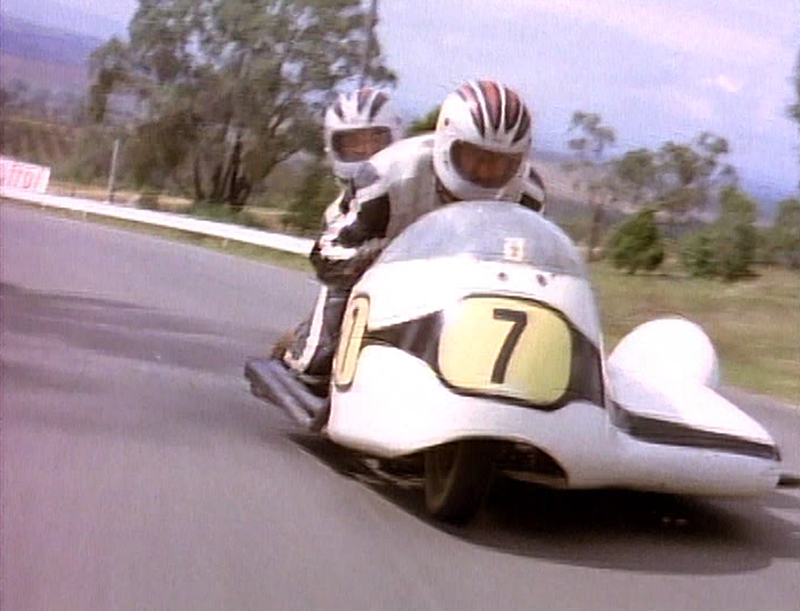 VIDEO AND AUDIO
Unfortunately, there's not much to comment on other than the fact that Umbrella has sourced the title from an obscure archive and simply put it on PAL formatted disc. It's certainly watchable, but the transfer really doesn't fare much better than a television broadcast of the time period, although HD upscaling through modern devices does help to an extent. Presented in 1.33:11 (4:3 Standard), the picture has a slightly jerky motion to it, but it's not a distraction, while sound comes through via a very basic 2.0 Mono track. It's a shame the film could not a have through some restoration as the DVD is packaged quite well with original artwork and one very enthusiastic blurb.
Sidecar Racers sold well on television, which is probably how most people came to see it. Now that's its available on home media, I'm sure the added affection towards Ozploitation cinema will help give the film a new life, which it certainly does deserve.
SIDECAR RACERS
(1975, dir: Earl Bellamy)
★★★
direct dvd screen captures
You can follow cinematic randomness on Twitter and Facebook where you'll find all my cinematic exploits. Thank you for visiting!