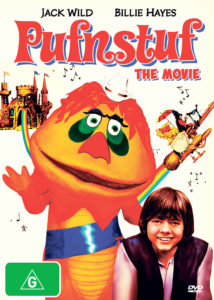 H.R Pufnstuf was very much a product of its time. While aimed at children, there was clearly something on offer for older viewers, particularly those who like to indulge in mind-altering substances. Now thanks to Via Vision Entertainment fans can once again go on a trip with the feature film prequel of the shot-lived cult series, simply named Pufnstuf, which recently hit DVD shelves in Australia.
Created by producers and puppeteers Sid and Marty Krofft, who also gave us Land of the Lost and the often-ridiculed Brady Bunch Variety Hour, this very imaginative comedy filled with magic and music begins by introducing us to our young lead, Jimmy (Jack Wild). After being kicked out of the school band, our hero's flute comes to life and proclaims they are now best friends. Jimmy then finds himself on Living Island with the hyperactive Witchiepoo circling the skies above, her eyes fixed on the prized Freddy Flute. Yes, that's his name. Fortunately, the very confused boy finds protection in the form of a dragon, the titular H.R. Pufnstuf along with his posse of animated structures and talking critters ranging from a silver watch to an owl. Nonsense ensues.
You can argue that very little in this movie makes sense, even with the right context, which I imagine would be hard to obtain based on the series that came prior. However, a child's imagination is rampant and free, unbound by the need for logic and reason which us adults insist upon. In that sense, Pufnstuf with all its wonder simply wants you to live in that mindset, although a Gestapo rodent running around probably wouldn't be in the minds of many youngsters. I hope not anyway.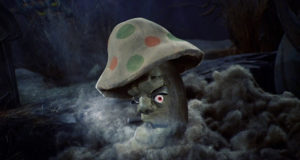 If anyone's earning their paycheque it's Billie Hayes as Witchiepoo, the villainess who bookends our story. Her performance is the very definition of "effort" and if any 'being' in Pufnstuf could for a second make you believe this world, it's her. Jack Wild is also very much on board as Jimmy, who seems to have overlooked the literal nature of Living Island as he's constantly amazed by what objects walk and talk; but he's a likable hero for the adventure that follows.
SPECIAL FEATURE
VIDEO AND AUDIO
I was genuinely surprised how good this DVD looked on my new TV despite the 20-year gap in technology. It's NTSC encoded for optimum quality. The colours are very bright and vibrant with a nice texture on the 1.85:1 image. Dolby Digital 2.0 Mono offers a terrific level of quality sound, especially blasting through a Yamaha surround sound system. English subtitles are included.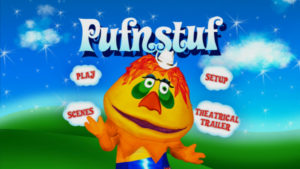 Many years later Sid and Marty Krofft would sue the creators of another "Living Island" known as McDonaldland for its obvious similarities to Pufnstuf, receiving $1,044,000 in a settlement, which funnily enough, is more than the film's budget. Nevertheless, Pufnstuf still lives on in the pop culture lexicon as either nightmare fuel or a staple of late 60s children's television, which it certainly is.
PUFNSTUF
(1970, director: Hollingsworth Morse)
★★★
Head over to the Via Vision Entertainment Facebook page for the latest releases, giveaways, great deals and more!
direct dvd screen captures
You can follow cinematic randomness on Twitter and Facebook where you'll find all my cinematic exploits. Thank you for visiting!