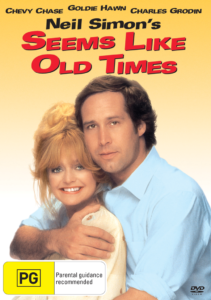 If you enjoy Hollywood comedies, which I'm sure most of you do, then you've likely seen at least one of from writer Neil Simon, known most famously for The Odd Couple. Written solely for the screen, Seems Like Old Times is an old fashion style comedy, even for 1980 when crude humour was seeping into the genre. Out now on DVD from Shock Entertainment, Chevy Chase stars as writer Nick Gardenia who is wrongfully accused of robbing a bank. Desperate and on the run, Nick seeks help from his ex-wife, Glenda, (Goldie Hawn) a public defender now married to the Los Angeles district attorney Ira Parks (Charles Grodin).
Despite leaving Saturday Night Live prematurely, Chevy Chase landed several leading roles on the strength of his notoriety as one of the show's first 'Not Ready for Prime Time Players'. His trademark dry wit and knack for prat-falls prove to be a perfect fit for Simon's material, but it's the combined effort of the film's three stars that achieve the laugh-out-loud level of hysterics. Most of the film takes place in and outside of the Parks' upper class Brentwood homestead, filled with hired help, many of whom are Glenda's wayward clients. Goldie Hawn epitomises the plot's chaotic style as the kind-hearted lawyer, who must conceal Nick's unexpected arrival during a party. Between juggling social duties and keeping her mischievous staff in line, the chemistry between her and Nick becomes evident, setting up a slapstick love triangle of sorts. Charles Grodin, who often plays the straight man, is in his element as the uptight Ira, who is by no means the film's villain, just the last one in on the joke. His scenes with Hawn in which they bicker over Nick's predicament with the law are genuinely funny with all the subtle gags derived from the hidden third wheel. Much like the title suggests, Seems Like Old Times is about the brushes we sometimes have with an earlier chapter from our lives and how the love for one person is not diminished in favour for another. It's a nice story about how people grow and mature over time and how it's okay to look back every now and then.
VIDEO AND AUDIO
I remember my first encounter with NTSC. It was The Goonies premier release on DVD back in 2001, which to my horror would only be displayed in black and white thanks to my sub-stranded tube-telly. Now that Australian screens have evolved, I've come to appreciate the alternative colour format, which often yields exceptional quality over PAL, as it does for this particular R4 disc. Despite the limitations of standard definition, the picture is sharp and very clear with a nice ounce of film grain in 16:9 widescreen, while the sound is loud and crisp in AC3 Dolby Digital.
With mainstream comedies becoming so self-referencing and sophisticated, the re-issue of Seems Like Old Times is a great chance to experience comedy filmmaking in a more simple and formulaic style, which hinges mostly on the talents of its players and a firm grasp on the script.   
SEEMS LIKE OLD TIMES
(1980, dir: Jay Sandrich)
★★★½
direct dvd screen captures
You can follow cinematic randomness on Twitter and Facebook where you'll find all my cinematic exploits. Thank you for visiting!