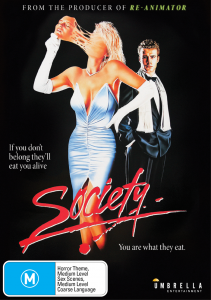 After producing a number of horror staples during the mid-to-late 80's, Brian Yuzna made the leap to directing with the twisted Society, which offers a satirical and highly grotesque portrayal of the elite and their self-serving appetites. We discover this horrifying final rung on the social ladder through the ordinary eyes of Bill Whitney, a teenage boy who feels alienated among his peers and family. Despite reassurance from his therapist that Billy's feelings are nothing more than growing pains, he becomes increasingly convinced something extremely strange is going on.
Made on a very modest budget of $2 million, there's no denying that Society has a low-end quality, which actually works in the film's favour, creating an unsettling ambiance that never subsides. From the moment you press play, normal becomes the minority and visual anomalies burn themselves into your mind, a mere preview of the big unveiling towards the film's climax. Released under Australian-based label Umbrella Entertainment on DVD only, picture and sound are both adequate while bonus content gives the viewer some insight into the film and how it came to be.
SPECIAL FEATURES:
Audio commentary with Director Brian Yuzna
Theatrical Trailer
Umbrella Propaganda
I think avid fans of movies in general will at the very least be familiar with Brian Yuzna's Society, due mainly to its reputation and showcase of the most disgustingly impressive practical effects of the era. You may not want to go back for more, but this celebration orgy of a ruling class is worth a peak.
SOCIETY
(1989, dir: Brian Yuzna)
★★★½
You can follow cinematic randomness on Twitter and Facebook where you'll find all my cinematic exploits. Thank you for visiting!