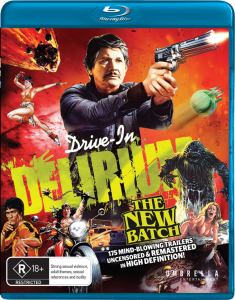 Just over a year has passed since Umbrella Entertainment's first two rip-roaring volumes of Drive-In Delirium hit the shelves, resulting in a sensory deprivation tank equivalent to binge-watching on my part. Now with the release of the much anticipated Drive-In Delirium: The New Batch earlier this month, I decided to pace myself, saving it as a nightcap of sorts over the course of a week. Packed with 175 uncensored trailers, remastered in high definition from the 50's, 60's, 70's and 80's, this super-charged remix of both mainstream and cult cinema certainly doesn't skimp on variety, offering the best and sometimes the worst bits from our favourite movies.
Divided into two sections totalling a runtime of 373 minutes, The Quickening and The Spawning, we begin with extra-terrestrial danger such as The Green Slime, Without Warning and the disturbing Xtro just to name a few; the tone then shifts rather dramatically to some 70's policing in the form of The Laughing Policeman starring Walther Matthau, the goofy Freebie and the Bean and John Wayne in ol' London town as the titular Brannigan. What follows are spurts of different categories if you like, with the occasional curveball (the maniacal Caligula for example) thrown in the mix to keep things interesting to say the least.
You'll be amazed by how well most of the trailers polish up in HD, keeping quality consistent and justifying their place on the jam-packed Blu-ray; generously encoded in regions A, B and C for international playback. If you're thirty for more, there's 95 minutes of VHS Delirium to sink your teeth into; direct from the annuals of the Australia video market of yesteryear and narrated by a guy who's awkwardly excited about some of the advertised films. I had a lot of fun with Drive-In Delirium: The New Batch, a truly unique product from Umbrella Entertainment that I hope we see more of soon!
★★★★
You can follow cinematic randomness on Twitter and Facebook where you'll find all my cinematic exploits. Thank you for visiting!