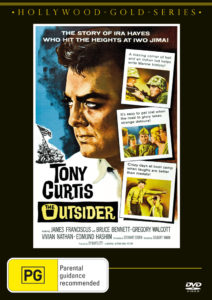 Many classics from Hollywood's Golden Age haven't aged partially well in retrospect, and for good reason, but if you can look past the creative choices, specifically casting, often, there are still good movies to enjoy. The Outsider is a modest example of this, which stars Tony Curtis as Native American, Ira Hamilton Hayes, a real-life individual who served in the United States Marines during WWII, seeing combat at Iwo Jima where he helped raise the flag.
Clint Eastwood told part of Hayes' story in his patriotic war drama, Flags of Our Fathers, a focus on the men immortalized in that iconic photograph. However, The Outsider follows only our Pima Indian lead from his idealistic enthusiasm to serve his county to his gradual decline into depression and alcoholism. Admittedly, I felt minor cringes upon seeing a purposely darkened Curtis, which would not fly nowadays, but suspension of disbelief thankfully kicked in for what I would consider an underrated drama from the early 60s. The Outsider is, overall, quite a sad story, mixed with triumph and tragedy as Hayes struggles with his sudden fame while being paraded around to help sell war bonds, feeling unworthy of the widespread attention. I haven't seen much from Tony Curtis' filmography, but he was without a doubt a great actor and he's really convincing as Hayes, even though he's about as Native American as Tom Hanks. He conveys a profound sadness and inner turmoil over just wanting to be himself and not the symbolic figure he's been built up to be.
When you're in a war, you're dead already, and the reason you fight is to come back to life. – Ira Hayes
While he's not overtly abused, our lead's Native ancestry is treated almost like a novelty, with him being often referred to as 'Chief' and greeted with a stereotypical howl by ignorant admirers and well-wishers. Prior to his wartime notoriety, Hayes was shunned whilst at bootcamp, despite winning the respect from his Drill Sargent through sheer will and determination, and finding friendship with a fellow enlisted man, James Sorenson; played by the handsome small-screen star, James Franciscus. Having spent his life in the white man's shadow, his sudden acceptance as a war hero compounded by personal loss left Hayes never knowing his true place in the world, which is heartbreaking.
Interestingly, it appears that Shock Entertainment is the only label that has The Outsider available on physical media, which is kind of a shame, but also understandable in these politically correct times. Nevertheless, this SD rendering looks nice in 1.85:1 widescreen and upscales well through 1080p devices. Meanwhile, the Dolby 2.0 track is remarkably loud, so lower your amp's volume before pressing "play." Unforgivably there are no English language subtitles and disc itself is region 4 locked, but that's hardly a barrier these days.
The Outsider is available in the Tony Curtis Collection and as an individual DVD release, both from Shock Entertainment in Australia under their Hollywood Gold Series.
THE OUTSIDER
(1961, director: Delbert Mann)
★★★★
direct dvd screen captures
You can follow cinematic randomness on Twitter and Facebook where you'll find all my cinematic exploits. Thank you for visiting!