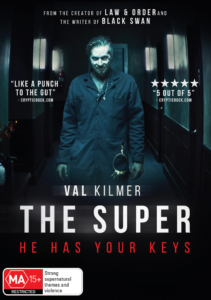 Mixing the day-to-day routine of a blue-collar occupation with horror has been a proven formula for decades, and one of the latest features for fans to 'clock-on' to is The Super, "starring" Val Kilmer. Coming to DVD on August 7th from Eagle Entertainment, this fairly low-key offering follows a single father of two, Phil Lodge, who accepts a job as the superintendent of a New York City high-rise apartment building. Between tenants disappearing and ominous encounters with suspicious maintenance man, Walter (Kilmer), our tormented protagonist begins to question his sanity and surroundings.
Upon first reading that The Super was among Eagle's upcoming releases, I couldn't help but cast my mind back to the Joe Pesci comedy of the same name, in which he plays a sleazy and casually racist slumlord. However, this supernatural mystery is far less forthcoming and keeps its secrets well concealed with red herrings to throw viewers off the scent as to who or what is responsible for sudden vanishings. Despite a lower-budget, the film makes effective use of its multi-storey setting, showing us the many rooms and dimly-lit service passages that are generally off-limits to residents. This tactic allows the building to become a character of its own, reflecting the unsettling vibe that resonates through its walls. Our cast of characters are your everyday folk, keeping the story pretty grounded even with the suggestion of paranormal activity that seems to gravitate around Walter, particularly his cultural background. Phil Lodge is played by actor Patrick John Flueger, a man struggling with adjusting to his new life whilst dealing with grief and past trauma; which in reflection to the strange events, gives the story an ambiguous quality. I recently heard a wonderful quote describing Ed Wood's Plan 9 from Outer Space, "No matter when you watch 'Plan 9' it's always two o'clock in the morning." The Super has that same late night or early morning feeling, which usually comes from watching TV when you can't sleep.
VIDEO AND AUDIO
DVD is still a viable means of distribution for independent titles and while the resolution may pale in this age of ultra HD, Eagle Entertainment has managed to produce a quality release. Presented in 16:9 widescreen, the picture has that trademark hue of dark blues and greens found in many low-budget horror films, which helps to accentuate the eerie photography and the use to vibrant reds during climactic moments. Dolby 5.1 English is the disc's only audio track and is utilised well throughout the film, sounding perfectly balanced and immersive via any standard surround sound system.
Whether you're a casual or hardcore horror fan, The Super will more than fill the void if you find yourself hard up for something to watch. Val Kilmer is excellent despite what is really a supporting role, but his odd demeanour and goatee moustache gives him a real devilish appearance that will leave a lasting impression.
THE SUPER
(2017, dir: Stephan Rick)
★★★½
find more horror titles at eagleentertainment.com.au
You can follow cinematic randomness on Twitter and Facebook where you'll find all my cinematic exploits. Thank you for visiting!