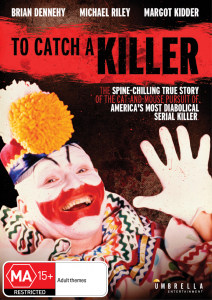 We're in the midst of a new Golden Age of television with an abundance of high-quality content available via traditional broadcasting and streaming services, often rivalling theatrically released features. Decades before this big-budget era took hold, made-for-TV movies paled greatly in comparison, especially during the early 90s, which was arguably a low point for the small screen medium. However, the Fox produced two-part television film To Catch a Killer is a remarkable exception, which has recently found its way to DVD thanks to Umbrella Entertainment. Base on the days leading up to the capture of real-life serial killer John Wayne Gacy, this gripping crime-biography follows the intense police investigation following the disappearance of teenager Chris Gant (Gacy's final real-life victim, Robert Piest), led by Des Plaines detective Lt. Joe Kozenczak.
With many features coming at in or around the three-hour mark, events depicted can often feel drawn out and you'll be forgiven for thinking the same with To Catch a Killer. When in actuality it was only a two-week period between Gant's disappearance to the subsequent arrest of our prime suspect. Much of this outstanding display of police work is attributed to the clever tactics and efforts of Lt. Kozenczak, played by Michael Riley. The film does fine job in showing his motivations from the perspective of both a father and police officer, who's convictions and gut instinct point him towards Gacy. Although, his suspicious are well founded and obviously correct, the gathering of sufficient evidence and the confines of proper procedure prove one of the biggest hurdles, outlining the complexity and seriousness of such a case. Factors such these are stressed throughout both parts of the feature and are a great example of the level of detail the filmmakers aimed for. Brian Dennehy portrays Gacy in a performance that earned the burly actor a well-deserved Emmy Nomination for Outstanding Lead Actor in a Miniseries. Ranging from cunningly predatory to outright sadistic, Dennehy manages to embody the deceptive personality traits of Gacy with easy, such as his craving for attention and arrogant levels of confidence. Gacy supposedly wrote to Dennehy, protesting the film and to proclaim his innocence, which would have been roughly just two years before his execution in 1994.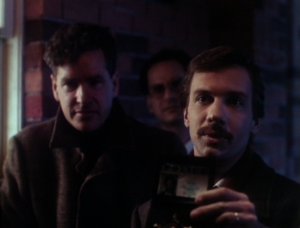 VIDEO AND AUDIO
To Catch a Killer is presented in its original 4:3 full frame aspect ratio and while picture quality has not improved since the TV broadcast, the region 4 encoded disc is more than watchable, with most modern devices providing upscaling for improved playback. Complete with a menu, which has divided the film in its two 90 minute parts, viewers are also treated to 'Feature Start' (bypassing chapter selections) and a promotional trailer. Although, I would save that for after if you're a first time-viewer as it's a little too revealing.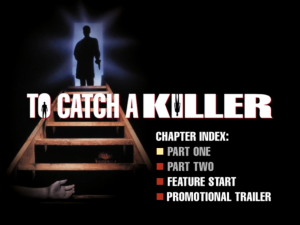 Known as a respected businessman and community volunteer prior to his arrest, often performing as "Pogo the Clown" and "Patches the Clown" for hospitalized children, John Wayne Gacy's reign of terror was abruptly brought to an end in December of 1978. To Catch a Killer was a production subject to usual network television limitations of the time, but strong performances and dedication to telling the spin-chilling story of the infamous serial killer is the reason why it remains so well-regarded to this day and is a must-watch for avid followers of the true-crime.
TO CATCH A KILLER
(1992, dir: Eric Till)
★★★★
You can follow cinematic randomness on Twitter and Facebook where you'll find all my cinematic exploits. Thank you for visiting!