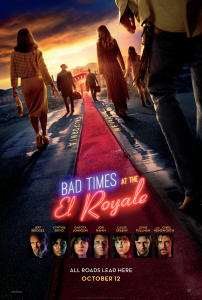 In some ways it felt like a cruel joke, one that prodded at our inner child. Even as the lights dimmed for the usual serving of trailers and commercials, the enormous tunnel slide situated on our right remained a glaring sight. Despite being locked tight, awaiting the next Vjunior session, all eight patrons tried to again access, hoping for an echoey plunge before the final session of Bad Times at the El Royale began.
Drew Goddard's (Cabin in the Woods) anxiously anticipated second feature follows several strangers who meet purely by chance at a secluded and rundown hotel with a shady past. Each holding a secret, the coming night's events reveal their true character as mayhem quickly ensues. Not to spoil what is a key underlying element to this wild film, but the unique geographic location on where the El Royale stands feels almost otherworldly. Whether it been the eerie silence of an empty lobby or it's ominous design, the all but vacant hotel seems reserved only for those carrying extra baggage. Our cast of characters, ranging from a kindly priest to a rather mouthy vacuum cleaner salesman are an instantly intriguing assortment. Goddard's clever script drops only minor details regarding their identity and motives, encouraging the audience to fill in the blanks. I'd be remiss if I didn't acknowledge the film's classic soundtrack, a creative mix of Motown and late 60s rock, brilliant reflecting the tone and sentiments. While very familiar, the selection of tracks is utilised in a way that it feels like you're hearing them for the first time, permanently changing your perspective of the lyrics and their greater meaning. Suffice to say, Bad Times at the El Royale would be an empty shell without them. Boasting an ensemble cast, I think it's fair to say that Jeff Bridges headlines this dynamic crime-mystery as Father Daniel Flynn in another stellar performance for the veteran actor. John Hamm makes his presence known as salesman Laramie Seymour Sullivan, while Cynthia Erivo is the film's unsung protagonist as struggling singer Darlene Sweet. Filling out the darker side of El Royale's guest list is Dakota Johnson who underwhelms slightly as the unfriendly Emily, accompanied by her bad-seed younger sister, Rose, played disturbingly by new-comer Cailee Spaeny. Chris Hemsworth makes a memorable appearance as the Charles Manson-type Billy Lee and the El Royale's sole worker Miles, is played anxiously by Lewis Pullman.
Bad Times at the El Royale has all but left cinema screens, but its neon glow and mood lighting bring with it a distinctive flare and ambiance, which I cannot wait to experience again when it hits Blu-ray. Coming in at a solid 141-minute runtime, check-out comes around quick, but the stay is near perfect!        
BAD TIMES AT THE EL ROYALE
(2018, dir: Drew Goddard)
★★★★½
You can follow cinematic randomness on Twitter and Facebook where you'll find all my cinematic exploits. Thank you for visiting!