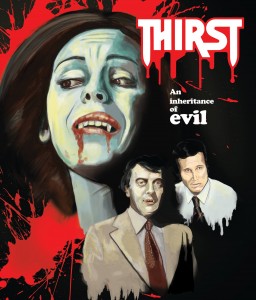 For years it was frustratingly difficult to find many of our cult titles on home media, but thankfully things have change for the better with a number of local distributor working tirelessly to help fill the void. Recently unearthed from the depths of obscurity is Thirst; Australia's first film about vampires, which was released on Blu-ray by Glass Doll Films on March 23rd. Abducted by an exclusive cult made up of society's elite, a descendant of  Elizabeth Báthory is encouraged to join her captors on their farm where a state of superiority is achieved by drinking the blood of willing donors.
Steering away from genre clichés, Thirst brings vampirism into the modern era, on an industrial scale. The film's high quality production presents a level of sophistication and professionalism that you would normally find in the corporate world. There's a looming sense of unease which rarely lets up as our socialite protagonist (Chantal Contouri) enters a society she can barely comprehend or understand; with fear and paranoia consuming the viewer as her efforts to resist continuiously prove futile, adding to the mounting pressure to conform and embrace her sinister heritage. Moving on to the release itself, I can safely safe that Thirst is easily one of the best from Glass Doll Films to date. The new coverart is eye-catching and while the HD upgrade is a welcome sight on our TV screens, the picture retains that distinctive grainy quality for an authentic appearance. Extras include audio commentary, interviews, theatrical trailer, TV spots and an exclusive collector's booklet written by John Harrison and designed by matt@itsonlyatshirt.com
Conventional cinematic depictions of the undead are in plentiful supply, so why not treat yourself to this homegrown blood-sucker? I think you'll be pleasantly surprised by it's prowess and ambiguity.
THIRST
(1979, dir: Rod Hardy)
★★★★
You can follow cinematic randomness on Twitter and Facebook where you'll find all my cinematic exploits. Thank-you!