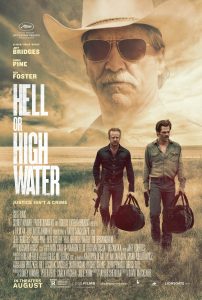 While big Hollywood blockbusters reign supreme in multiplexes, there are many smaller films that don't get the release they deserve. Which is why multicultural broadcaster SBS partnered with Madman Films to distribute Hell or High Water in Australia, following its celebrated premiere at the Cannes Film Festival.
In this morality driven Neo-Western, two brothers rob banks across West Texas in a desperate scheme and to save their family ranch from foreclosure. There's a polarizing quality to this film which not only echoes the struggles and often harsh realities of a working-class life, but the growing resentment we have towards financial institutions that have long since parted ways with moral conduct. Texan culture exudes throughout the piece which brings moments of colourful humour to off-set an often sombre tone, while well-crafted characters win the affection of viewers. Chris Pine is enigmatic as the film's protagonist Toby, while Ben Foster excels as the wildly impulsive older brother Tanner. Despite the noticeable contrast in personality their bond is could not be more evident as their unlawful endeavour become increasingly dangerous. In a prominent supporting role Jeff Bridges delivers a dignified performance as an aging Texas Ranger nearing his retirement, bestowed with the final task of capturing the elusive duo.
Hell or High Water blurs the line between right and wrong and raises the question of what gives us the right to peace and justice for what we have lost along the way. Not since the likes of Unforgiven and No Country for Old Men have we been given a Western style drama with such a poignant philosophical undertones to ponder over.
HELL OR HIGH WATER  
(2016 dir: David Mackenzie)
★★★★
You can follow cinematic randomness on Twitter and Facebook where you'll find all my cinematic exploits. Thank you!