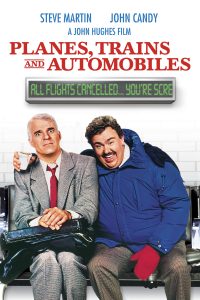 Over the years I've developed a rather strict habit of not watching holiday themed movies outside their designated time, and while I have been lenient with Planes, Train & Automobiles in the past, it has now becoming a permanent fixture of late November for this Australian film fanatic since enjoying Thanksgiving and all its wholesome tradition.
Centred around the rush to make it home for the sacred occasion, advertising executive Neal Page (Steve Martin) must navigate the perils of public transport whilst in the company of obnoxious shower curtain-ring salesman Del Griffith (John Candy). I firmly believe Planes, Train & Automobiles to be a perfect comedy. While none of us rarely find ourselves laughing when stuck at an airport, train station or bus stop, the way writer/director John Hughes depicts this almost universal scenario is both frustratingly realistic yet painfully funny in a retrospective sense for the viewing. Adding to the enjoyment tenfold is the dual experience of our two protagonists. Neal is impatient, and not particularly tolerant, but there's an insanity to his no-nonsense demeanour, which breaks through hilariously via Steve Martin's distinctive knack for exaggerated reactions and body language. On the opposite end of the spectrum is the easy going Del an often oblivious and effortlessly funny character, epitomising the style of John Candy's brand of comedy. There two weary travellers forge an unlikely friendship, born out of chance encounter and kindness that culminates with embodying the holiday spirit.
Afraid of appearing inept or deficient, no transport company allows their respective logos to appear anywhere in the film, which meant a lot of additional work the film's crew, but suffice to say the result speaks for itself, and with today marking the 30th anniversary of Planes, Train & Automobiles, do the 'Mess Around' and pop it in your DVD player or if you're on the road, stream it!
PLANES, TRAINS & AUTOMOBILES
(1987, dir: John Hughes)
★★★★★
You can follow cinematic randomness on Twitter and Facebook where you'll find all my cinematic exploits. Thank you for visiting!