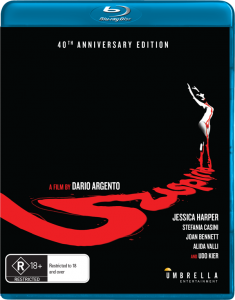 Since I first ventured into the world of Italian horror with Dario Argento's bizarre insect-infested Phenomena, my experience with the foreign genre has been a mixed but nonetheless memorable experience. Suspiria has undeniably stood out, as it did for countless fans and in celebration of its 40th anniversary Umbrella Entertainment have pulled out all the stops in giving Dario Argento's masterpiece a fresh Blu-ray release sourced from a pristine 4K restoration. For those few out there unfamiliar the horror classic, we follow American student Suzy, who is a newcomer to a prestigious ballet academy in Germany. Following a series of shocking deaths not long after her arrival, Suzy realises the school is a front for something wicked and unholy.
I find that Suspiria is a film that strikes many of us differently, but with a mostly jarring effect. For me it's the distinctively abstract set design, with shapes and various shades of red that evoke an almost hypnotic response while resonating the film's unsettlingly vibe that's impossible to shake, regardless of how many times you've seen it. Progressive Italian rock band Goblin provides the terror inducing soundtrack, heightening the shock and saturation of vivid colouring that is prevalent throughout the feature, resulting in a feeling that is almost visceral for the viewer.
VIDEO & AUDIO
I've often asked how it's possible to make films of certain age look so good, even superior to what audience saw in cinemas. While I have answered that question some time ago, I find myself asking it again. Both video and audio reach a parity of quality that is nothing of a gift to our senses.  Suspiria's colour pallet is served beyond our expectations while the 5.1 DST audio track engulfs with power and clarity.
SPECIAL FEATURES
Well exceeding the film's runtime of 99 minutes (a gross understatement) is a generous list of bonus content that will provide a cinematic education unlike any other you've had before. You won't know where to start so I'll just say start at the beginning.
Suspiria Told by Dario Argento: An Interview with Dario Argento and Nick Vivarelli on Suspiria's 40th Anniversary
25th Anniversary Suspiria Documentary
Exclusive Interview with Dario Argento (2004)
Fear at 400 Degrees: The Cine-Excess of Suspiria Documentary
An Eye for Horror' Documentary
Dario Argento's World of Horror Documentary
Image Gallery
Theatrical Trailers
TV & Radio Spot
Dario Argento Trailer Reel (1970-2009)
Retailing from $29.99 you can find Suspiria in stores or online at www.umbrellaent.com.au
SUSPIRIA
(1977, dir: Dario Argento)
★★★★½
You can follow cinematic randomness on Twitter and Facebook where you'll find all my cinematic exploits. Thank you for visiting!