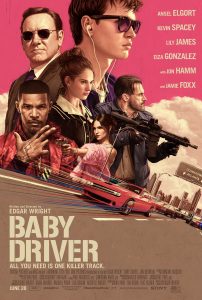 Having been two months since my last trip to the cinema, I decided to finally venture out to see Baby Driver, one of the few films which strives to break the dreaded mid-year lull of sub-par pictures. From celebrated English director and pop culture nut Edgar Wright, comes his latest big screen sensation, which follows a young and exceptionally talented getaway driver known only as Baby, who is coerced into taking part in one last heist before he can part ways with the world of crime.
The simple premise of this rampant action/comedy, it doesn't sell the feature on remarkability, but within minutes of its opening scene subtle nuances present themselves, letting the audience know they're in for an awe-inspiring experience. Baby Driver is a wildly unique and entertaining ride from start to finish. An unrestrained display of a filmmaker having the utmost fun with his craft, exploiting his best traits to their full potential with everything cut to the beat, rhythm and tempo of our hero's infinite iPod playlist. Rising star, Ansel Elgort is excellent as the reserved Baby. Dressed in attire that's an obvious and appropriate salute to Star Wars' Han Solo (the best pilot in the galaxy), he's a likable everyday guy with an aurora of sophistication and talent that we've all fantasised of processing at one point or another. An array of Hollywood's finest fill out the supporting cast perfectly, not outshining their titular lead while contributing greatly to the film's wild and unpredictable nature. Kevin Spacey as criminal mastermind Doc, is reason enough alone to see this picture.
While many are calling Baby Driver "the best film of 2017!" I'll have to hold off on making that statement for myself as there's a couple of strong contenders still on the horizon.  However, Edgar Wright's heavily influenced genre epic is well and truly up there and one you must see in theatres!
BABY DRIVER
(2017, dir: Edgar Wright)
★★★★½
You can follow cinematic randomness on Twitter and Facebook where you'll find all my cinematic exploits. Thank you for visiting!