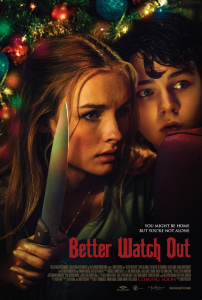 Sometimes the selfless plight of George Bailey in It's a Wonderful Life or Cousin Eddie emptying his shitter in Christmas Vacation isn't enough for one's seasonal viewing, despite their timeless quality. There needs to be variety among titles, particularly something of darker nature, still embodying the festive charm. So allow me to introduce Better Watch Out, an Australia-American horror comedy in which a babysitter must quell the antics of an unusual 12-year-old boy whilst dealing with your not so typical home invasion.
Opening with a comforting familiar sight of a beautifully decorated house on a quiet suburban street, crude dialogue from both adults and youngsters quickly establish the film's nature, which is far from wholesome. Levi Miller is disturbingly creepy as the supervised Luke, who's infantile demeanour alarmingly breaks through in the presence of his best friend Garrett (Ed Oxenbould) and even more so with his babysitter Ashley (Olivia DeJonge); two actors who reunite after appearing together as brother and sister in M. Night Shyamalan's The Visit. Holiday favourite Home Alone is an obvious influence with one memorable improvised booby trap yielding far more damage than we've seen previously, shocking the viewer and reinforcing the film's darkly comedic sentiments.
Better Watch Out is on a limited theatrical run through Rialto Distribution in select cinemas across Victoria, New South Wales, Queensland, South Australia and Northern Territory. If you're looking for a unique way to kick off the silly season, then look no further!
BETTER WATCH OUT
(2017, dir: Chris Peckover)
★★★★
You can follow cinematic randomness on Twitter and Facebook where you'll find all my cinematic exploits. Thank you for visiting!