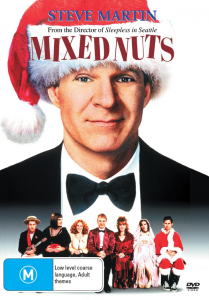 With the arrival of December comes the mandatory viewing of Christmas movies for many who embrace the festive spirit. I personally like to make an effort to seek out lesser known titles from the holiday back catalogue and as luck would have it, Shock Entertainment have re-issued the ensemble comedy Mixed Nuts on DVD. Based on the French play and subsequent film, Le père Noël est une ordure (Santa Claus Is a Stinker), the remaining hours of Christmas Eve bring chaos and spontaneity to a struggling crisis hotline business in Los Angeles.
Directed and co-written by Oscar nominated screenwriter Nora Ephron, the on-stage roots of the multi-directional plot are very evident as the film often runs at break-neck speed, while it doesn't always work in its favour, the style is befitting to the hectic last minute nature of the holidays. Steve Martin, who has committed the criminal act of dying his trademark hair brown, is our central character Philip; a run-off-his-feet boss oblivious to what's right in front of him. His performance is fine, although a far cry from his more popular work. An array of supporting players ensures there is never a dull moment, with notable scenes featuring comedy veteran Madeline Kahn as bemused widower Mrs. Munchnik, Liev Schreiber as misunderstood cross-dresser Chris, and Adam Sandler perfecting is often mocked babyish jigger-jabber as eccentric resident tenant Louie.
After all is said and down, Mixed Nuts proves that Christmas is the inevitable force it is by bringing people of all walks of life together in the most unusual of circumstances. It's not on the same level of hilarity as other classics, but an obscure piece that makes an ideal stocking-stuffer.
MIXED NUTS
(1994, dir: Nora Ephron)
★★★½
You can follow cinematic randomness on Twitter and Facebook where you'll find all my cinematic exploits. Thank you for visiting!