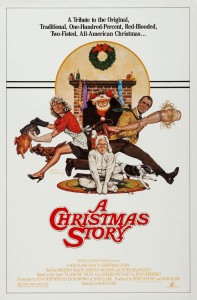 Imagine a Christmas movie so popular that it's broadcast annually for 24 hours straight. This is the case for 'A Christmas Story', which began it's marathon run on American's TNT way back in 1997. Despite the immense popularity overseas, it never really caught on here in Australia upon it's initial release in 1983. However in recent years the seasonal favourite is finding a place in more and more DVD collections, including my own. I've seen it twice over the past two years and I'm looking forward to my third viewing later in the month.
Most of us can relate to the trials and tribulations of wanting that perfect Christmas, mostly the presents and food. For little Ralphie Parker it all hinges on a Red Ryder B.B. Gun, and convincing his parents, and most importantly Santa, that it's the perfect Christmas gift for a nine-year-old boy. Ralphie's vibrant imagination and exaggerated narration of an average family Christmas, perfectly encapsulates the mischief and mayhem of childhood, which unfortunately hinders his chances at receiving his desired gift, despite his best efforts to be "good". The eccentricities of his parents further evoke feelings of nostalgia amongst older viewers, widening the film's appeal to both children and adults. Hilariously the antics of Ralphie's father are especially relatable to anyone with a parent who exceeds all practical means to achieve that perfect holiday. Christmas wouldn't be complete without some disappointment, which is often a result of the unrealistic expectations we place on ourselves and others; such as waiting in a seemingly endless line of kids only see a Santa who is anything but jolly, or a family dinner that is everything but edible. These sentiments are portrayed in 'A Christmas Story' with such a humour and charm, reminding us of the importance of taking the good with the bad.
If you're looking for something a little alternative for your festive viewing line-up, I cannot recommend 'A Christmas Story' enough. It wonderfully mirrors all those Christmases that were uncountably eventful, but not perfect.
A CHRISTMAS STORY
(1983, dir: Bob Clark)