We all love a good slice of nostalgia every now and then. As a film reviewer, I experience it regularly through the variety of movies I revisit from my youth. Last Thursday night I took a trip down memory lane like never before, thanks to Tegan Dawson of 'Haunted Hills Tours', who took small number of locals on a guided tour of Yallourn North's unique history, whilst admiring the many spectacular Christmas light displays on show by proud residents. Most notably, Arthur and Colleen's Christmas wonderland on the corner of Anderson Ave and Boundary Road, which I watched evolve over many years from a modest display of a fairy lights to attraction it is today, mostly through the window of my grandparent's kitchen who live directly opposite.
After a glimpse of the eerie last remains of the old Scout Hall, we proceeded over to the town's steep north side, which was where my decent back to childhood began. Under the cover of darkness it was like stepping into an alien world. I felt like James Mason in 'Journey to the Centre of the Earth', looking on in wonder at the unusual street designs, which seem to defy all conventional engineering as if they were conceived within the mind my an obscure artist. Memories of swinging on a front gate and attending wood-chopping competitions with my dad behind the Rossmore Hotel were conjured up by our guide's flair for local history.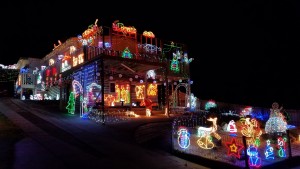 Should the 'Christmas Light and History Tour' become an annual event, I shall definitely be attending and I'll be encouraging others to do so. We go your whole lives with things right under your nose.
You can follow cinematic randomness on Twitter and Facebook where you'll find all my cinematic exploits. Thank-you!