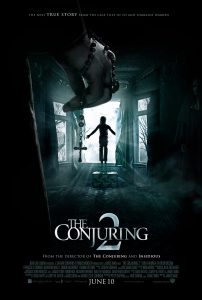 Despite initial lack of interest toward the much anticipated sequel to 2013's The Conjuring, it's opening score on IMDB of 9.2, and high praise among the horror community immediately captured my attention. By a stroke of luck, I won a double pass to an advance screening of the film in Melbourne, which I hoped would quell any remaining scepticism. Expanding on the case files of paranormal investigators, Ed and Lorraine Warren, the eerie tale follows the husband and wife team to London as they strive to help an overwhelmed single mother and her four children who claim their house is plagued by an antagonistic spiritual force.
Despite the dubious circumstances surrounding the movie's source material, and the Warren's actual limited involvement in the case, "The Enfield Horror" proves to serve as a solid basis for a mainstream horror film, containing many of the genre's key ingredients. Sympathy for the aforementioned family is established through the confines of their lower-middle class home, following an onset of strange occurrences, which are very effective in tapping into the viewer's psyche by use of startling sounds combined with minimal light and visual trickery. Fairly typical in many respects to a classic haunted house movie, strong attention to detail helps encompass the film's setting of late 1970s England. The nation's distinctive dreary weather pattern, for example, is the perfect enhancement to the prevalent sense of foreboding which looms relentlessly throughout the feature.  As occurrences intensify in both frequency and nature The Conjuring 2's many genre elements diminish in quality, mostly due to an over use of CGI; in which one particular instant took me completely out of what easily had the potential to be a genuinely terrifying moment. Furthermore, some exterior scenes looked noticeably staged in comparison to others. I felt this cheapened the production which clearly wasn't bound by budgetary constraints. On the other hand, both supporting and key actors brilliantly delivered effective and sympathetic performances. At the mercy of the unknown malevolent force is the youngest daughter, Janet, played by Madison Wolfe is thoroughly convincing in her terror, ironically more so than her real life counterpart. Patrick Wilson and Vera Farmiga reprise their roles as Ed and Lorraine Warren, bringing a compassionate element to the story while proving their expertise in a variety of different ways.
It can be easy to get the hung up on the line between what is fact and fiction, especially in cases which don't hold up well under scrutiny. My advice is to try and enjoy what you're watching for simply what it is, a scary movie.
THE CONJURING 2
(2016, dir: James Wan)
★★★½
You can follow cinematic randomness on Twitter and Facebook where you'll find all my cinematic exploits. Thank-you!