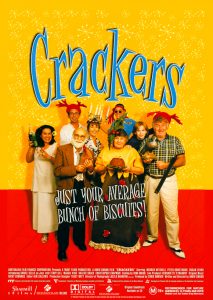 With the release of Australian Christmas movies, particularly comedies, being few and far between, Crackers has slowly worked its way into more living rooms during the festive season since its release almost twenty years ago. However, it does remain somewhat of an obscure title, one that's unfortunately difficult to locate on DVD. Encompassing the antics of a colourful and very Aussie suburban family, our story centres around young Joey Dredge, who is spending Christmas at his grandparent's with his mother Hilary, accompanied by her boyfriend Bruno and his son Angus. Suffice to say, chaos regularly ensues.
Much like The Castle which wholeheartedly celebrates working class life, there are many instances while watching Crackers are hilariously familiar, particular having to deal the blistering heat of an Australian summer, on top of the stress that ironically comes with the holidays. Much of the film's comedy relies on the lingo and behaviour of our characters, most of whom are stereotypical, but relatable to audiences nonetheless. From the explosive demise of a beloved pet dog to the extreme killing of vermin, there are moments throughout the film that have an almost Looney Tunes type nuance about them, even exaggerated sound effects are occasionally added to physical gestors, adding to the overall silly nature. Daniel Kellie is suitable the rascally Joey, a boy struggling to come to terms with his father's passing, but forms a bond with his great grandfather Albert played by legendary British actor, Warren Mitchell, a quintessential scene-stealer to say the least.
Endlessly quotable and laugh-out-loud funny, you could argue that Crackers is Australia's answer to Christmas Vacation (or the closest we'll get to having one), with 90 minutes of an imperfect family Christmas that enables us to look at ourselves without experiencing slight embarrassment and enjoying the qualities that make us Aussies unique.
CRACKERS
(1998, dir: David Swann)
★★★★
You can follow cinematic randomness on Twitter and Facebook where you'll find all my cinematic exploits. Thank you for visiting!