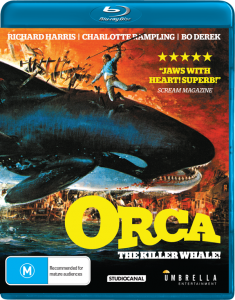 Wronged by man's savage nature, a killer whale seeks vengeance from a marine hunter after the death of its mate in this popular seafaring adventure that has been given the Blu-ray treatment in an anticipated release from Umbrella Entertainment. Riding on the dorsal fin of Jaws, it's no surprise that Orca does bare striking similarities to Spielberg's classic, but manages to succeed in being its own film quite easily thanks in part to a solid cast and an emotionally driven story about the ocean's most graceful and intelligent beings. From a technical standpoint set pieces and special effects are impressive, the illusion of which is still well preserved even with the improved picture clarity.
VIDEO & AUDIO
While not the most consistent of transfers, video is very clear, although inconsistent in overall quality with some picture noise present during darkly lit scenes. Audio is at times distorted and rather flat, but for the most part clear and immersive in 5.1 Mono DTS.
SPECIAL FEATURES
Produced by renowned film historian Lee Gambin, viewers are treated to an insightful audio commentary by Lee himself, plus a short featurette titled Moby Dick ala De Laurentiis: Martha De Laurentiis remembers ORCA and one theatrical trailer.
Orca was watched and enjoyed by myself along with a small group of friends, one of whom always falls asleep shortly after play is pressed, except this time, which I would consider a strong endorsement of the film. Available in stores and online, this forty-year-old cult favourite that warrants revisiting.
Note: Umbrella Entertainment have also released this film on DVD.
ORCA
(1977, dir: Michael Anderson)
★★★½
You can follow cinematic randomness on Twitter and Facebook where you'll find all my cinematic exploits. Thank you for visiting!