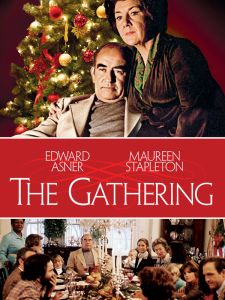 Long before the mass expansion of cable television and rise of streaming services, movies were generally confined to only two mediums, network TV and film. Unlike today when quality of content can differ quite dramatically between the numerous platforms on offer, feature-length productions often rivalled their Hollywood counterparts during the 1970s. One of the finest examples is The Gathering, an ABC produced feature that tells of a dying father who brings his divided family together for one last Christmas.
It's not uncommon to struggle with relationships towards family members, although Christmas can be especially difficult for those having to confront certain feelings of Ill will or resentment. This is a theme prominent during the film's first half as we're introduced to our lead Adam (Edward Asner), his estranged wife Kate (Maureen Stapleton) and their grown children and their respective spouses. Unbeknownst to their father's untimely situation, the unexpected gesture of welcoming his family back to the home in which they were raised soon has its effect as all concerned are able to reconcile and make their peace. Edward Asner is endearing as family patriarch Adam as is Maureen Stapleton as wife and mother Kate, and the supporting cast all give exceptional performances, filled with emotional and sincerity.
For a premise that carries a lingering sadness regarding our protagonist's inevitable fate, The Gathering is a profoundly touching film about bond of family and togetherness, one that reminds us of what's important come the holiday season. Available to watch on DVD or online via Warner Archive, if you can spare the time during this chaotic time of the year, add it to your queue!
THE GATHERING
(1977, dir: Randal Kleiser)
★★★★½
You can follow cinematic randomness on Twitter and Facebook where you'll find all my cinematic exploits. Thank you for visiting!