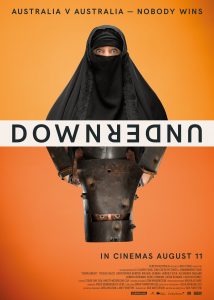 Despite the lack of media attention over the years that followed, I remember the Cronulla riots reasonably well, with a number of grotesque images of hatred still firmly implanted in my brain. Over a decade later director Abe Forsythe has re-ignited discussion over the event by presenting film-goers with a dark, comedic feature which tells the story of two carloads of racially fuelled morons from both sides of the fight set during the riot's volatile aftermath.
If there was anything that could perfectly capture the absurdity of racism, it would be Down Under without a doubt. Never have I laughed so much at something so tragic and illogical. Our characters, most of whom are self-proclaimed warriors of their respective countrymen, encompass the damaging effects of ignorance and a blind sense of national pride within a multicultural society. Popular music that would you normally associate with teens and young adults is used to reinforce the juvenile antics on display, creating some of the most hilarious sequences in the entire film; the theme to Dawson's Creek will never be the same. Performances range from brash to over-the-top by a cast of relatively unknown actors, with the exception of Adelaide native, Damon Herriman who is brilliantly stupid as the main antagonist Jason. Taking a more sensible route is Lincoln Younes as the reluctant Hassim, who only wishes to learn the whereabouts of his brother.
Despite a very limited theatrical run due to a wafer thin excuse by major cinema chains, I hope that Down Under can reach a wider audience via home media and prevent those who may have some resentment towards their cultural surroundings from making some bad decisions.
DOWN UNDER
(2016 dir: Abe Forsythe)
★★★★
You can follow cinematic randomness on Twitter and Facebook where you'll find all my cinematic exploits. Thank you!