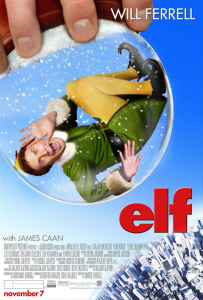 Summer was momentarily suspended on the night of Wednesday, December 14th in favour of a winter's chill. While it wasn't ideal weather for outdoor cinema, the cold provided a fitting ambiance for the screening of 2003's Elf, presented by Cinema Pop Up who are currently touring Victoria screening cinematic treasures of new and old. Despite being only thirteen-years-old, the Will Ferrell comedy has become somewhat of a modern Christmas classic among contemporary audiences, and after finally seeing it for myself this past week at Traralgon's Victory Park I can understand the appeal.
I'm sure to many that the idea of a man raised by Santa's elves traveling to New York City in search of his biological father initially sounds a little absurd, but surprising it works. This off-the-wall festive fantasy celebrates a larger than life individual who lives and breathes Christmas in every waking moment, impacting those around him ultimately for the better. Will Ferrell embodies a child-like persona as the film's star, Buddy, in a performance that has gone on to almost define the now veteran comedic actor, cementing Elf as staple of seasonal viewing. Supporting characters do a wonderful job playing it straight to their lead's zany antics, most notably James Caan as Buddy's alleged father Walter, a selfish book publisher and Zooey Deschanel as un-enthused department store employee, Jovie.
It's not Miracle on 34th Street or It's a Wonderful Life, but Elf is undeniably original and genuinely funny. If you have the time during this hectic period, sneak it in while there's still time.
ELF
(2003 dir: Jon Favreau)
★★★½
You can follow cinematic randomness on Twitter and Facebook where you'll find all my cinematic exploits. Thank you for visiting!