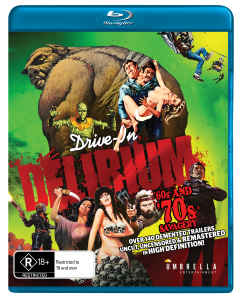 I've never been to a Drive-In movie theatre, but like many of us who missed those golden years of the popular social outing, we've heard the fantastical stories of what a majestic and unruly place it once was. Umbrella Entertainment have successfully captured the distinctive atmosphere by presenting a wide variety of film trailers from the 60s and 70s, showcasing the good, the bad and the ugly of cult cinema. Divided into two parts, the mood is set with a few cheesy advertisements from the time period, then begins a six-hour marathon of over 140 trailers for your consideration. Surprisingly there is some order to the chaos on display with titles broken up into their respective genres beginning with horror for the 60s and Blaxploitation for the 70s.
Remastered in high definition, many of the trailers have polished up exceptionally well, while some retain their grainy appearance befitting to the respective film's seedy and low-end style. There's something for everyone, ranging for the obscure and sheer random like the wild Vampire Circus or one of the many films riding the wave of 60s James Bond mania such as Code 7, Victim 5. Mainstream audiences aren't neglected with a number of preview classics, including John Carpenter's Halloween, Carrie and Star Trek: The Motion Picture.
I along with my girlfriend devoted the best part of a beautiful summer's day to Drive-In Delirium, thoroughly enjoying the content on offer, which resulting is a last minute dash to JB Hi-Fi to grab a copy of the Charles Bronson vehicle, The Mechanic. Officially out as of today (March 1st), Drive-In Delirium 60s & 70s Savagery can be found at a number of major entertainment based retailers or at Umbrella's official online store.
★★★★
You can follow cinematic randomness on Twitter and Facebook where you'll find all my cinematic exploits. Thank you!