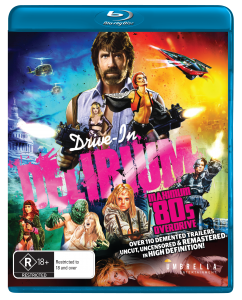 Released earlier this week (March 1st) by Umbrella Entertainment accompanying Drive-In Delirium 60s & 70s Savagery, is an entire volume dedicated to possibly the most popular and celebrated decade in film, the extravagant and excessive 1980s. Upon pressing play we're greeted with a very enticing commercial for Village Drive-In, showcasing the indulgent cuisine customary with outdoor cinema. Following the brief pleasantries, a barrage of trailers raging from nonsensical action to nightmare-inducing horror dominate much of the first 51 trailers. However, there appears to be some diamonds in the rough such as Robert Zemeckis' second directorial effort Used Cars and the Cold War hysteria-driven action/drama Miracle Mile, both of which managed to piqued my interest.
Moving on to the second half, the remaining 65 trailers are very befitting to the theme of cult and exploitive cinema, although variety is unfortunately non-existence with horror very much at taking center stage. While I'm sure many fans will get a kick out of revisiting slices from many of their favourites titles like Return of the Living Dead, The Fog and Child's Play just to name a few, I was left a little underwhelmed.
Having now enjoyed both volumes of Drive-In Delirium over the course of three days, I congratulate Umbrella on two exceptional release, which I'm sure will help enlighten many genre fans to titles that dwell outside the realm of mainstream. You can find both 60s & 70s Savagery and Maximum 80s Overdrive at a number of major entertainment based retailers or Umbrella's official online store.
★★★½
You can follow cinematic randomness on Twitter and Facebook where you'll find all my cinematic exploits. Thank you!