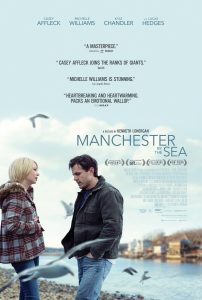 It's been almost two weeks since I watched Manchester by the Sea, but I don't feel I'm ready to write this review. Don't get me wrong, I think it's an excellent film. In fact, it was the best one I saw out this year's Best Picture nominees. However, it's raw quality and poignant themes touched a nerve that has left a lasting impact.
Janitor and handyman, Lee Chandler (Casey Affleck), leads a quiet and solitary life in Quincy, Massachusetts until he is suddenly faced with the responsibility of caring for his teenage nephew Patrick (Lucas Hedges) following the unexpected passing of his brother. There's a remarkable uncompromising style seen in Manchester by the Sea, as we the audience bear witness to an individual irreversibly damaged by personal tragedy and the crushing effects of grief. Anyone who has suffered loss will undoubtedly find this relatable, not to mention brutally honest and sincere. Simple means of cinematography are effective in capturing the working class culture of the titular sea-side town, echoing a sense of community and an uneasy mood of homecoming for the film's lead character. The emotional weight of Kenneth Lonergan's original screenplay owes a lot to the performances from an immensely talented cast; most notably Casey Affleck who picked up Best Actor earlier this month for his devastating portrayal as Lee. As a long-time fan of the younger Affleck brother, it's great to see him finally get his due as a dramatic actor. Lucas Hedges is effortless as Patrick, while Michelle Williams as Lee's ex-wife Randi is exceptionally potent.
Losing someone we love is never easy, nor should it be; and while over time we eventually heal, there will always be a void that nothing on this earth will ever fill. Manchester by the Sea is not only a bittersweet reminder of those facts of life, but an outstanding drama deserving of all its praise.
MANCHESTER BY THE SEA
(2016 dir: Kenneth Lonergan)
★★★★½
You can follow cinematic randomness on Twitter and Facebook where you'll find all my cinematic exploits. Thank you!