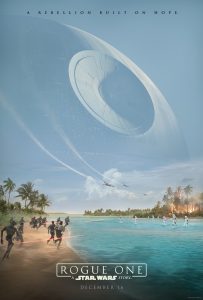 From the opening scroll in A New Hope, the seeds were sown for an epic story that wouldn't be told for almost forty years. We knew of the brave act, but not the finer details behind it. All we had was our young imaginations to fill in the blanks. In what is officially the first Star Wars spin-off, Rogue One: A Star Wars Story, our curiosity can now at the very least be satisfied as see how the Rebel Alliance risked it all to steal the plane for the Galactic Empire's new super-weapon, the Death Star.
Right off the back there's a noticeable difference in tone, style and appearance compared to the traditional episodic installments. Family oriented sentiments are supplemented for a paramilitary campaign filled with spectacularly intense skirmishes, revealing a side to the Rebels we haven't seen before. Characters are diverse and benefit from being unfamiliar to audiences, and while some fan-favourites do have a significant presence in the film, they don't overshadow the principle cast. There's a lot that can be said about the use of special effects and in Rogue One, with practical elements playing a big part and without giving anything away, what the film-makers were able to achieve with digital technology can only be described as transcendent. On a more philosophical note the symbolic essences of a lightsaber, peace and justice are manipulated for destructive means as the raw material used in the ancient weapon are harvested for a more sinister purpose; making a little known fact about the Death Star far more apparent. Felicity Jones Commands the screen as heroine and main protagonist Jyn Erso while Ben Mendelson excels and sports his native Australian accents as central villain, Orson Krennic, an ambitious but frustrated Imperial weapons developer.
Rogue One was the cinema experience I had longed for in a Star Wars film. Disney's darker and grittier approach I think will be welcomed by fans who feel a little alienated by the more family oriented style of The Force Awakens and beyond.
ROGUE ONE: A STAR WARS STORY
(2016 dir: Gareth Edwards)
★★★★
You can follow cinematic randomness on Twitter and Facebook where you'll find all my cinematic exploits. Thank you!