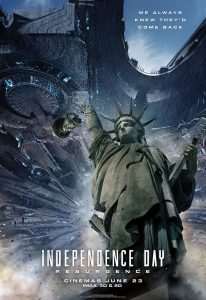 While they may not put a tick every box, blockbusters like Independence Day often expose an arrogance affiliated to a number of film critics who seem to have lost sight of enjoying movies simply for what they are. I didn't have any real expectation going into this long awaited sequel; just plain excitement based on how much I enjoyed the original as a child and over the years that followed.  Two decades after what has been dubbed 'The War of 1996', earth once again comes under threat from the extra-terrestrial invaders who have returned with an even more destructive force.
The world we revisit is one noticeably different from our own. Most of what mankind lost in the previous instalment has been rebuilt, and the earth prospers in both global peace and technology with the help of left-over extra-terrestrial mechanics from their defeated foe. The plot is little more than a rehash of the original film, probably coming as no surprise to most perspective viewers. However, through its formula-driven narrative the film's universe expands significantly, opening up a number of interesting possibilities for the overall story and potential for a second sequel. Returning cast members such as Bill Pullman, Jeff Goldblum and comic relief, Judd Hirsch each bring a number of memorable moments and cater a lot to fan nostalgia; whereas the younger cast symbolic of the new generation, are bland and underwhelming loaded with generic archetypes and personality traits. Undoubtedly the biggest drawcard, action sequences strive to top previously seen levels of global destruction, but unfortunately fail to deliver the same impact they did twenty years ago.
Fans who have a fondness for traditional B-movies are likely to get the most enjoyment out of Independence Day Resurgence. I admit to feeling some disappointment, but if you're able to suspend disbelief you'll be in for a fun time despite the number of shortcomings.
INDEPENDENCE DAY: RESURGENCE 
(2016, dir: Roland Emmerich)
★★★
You can follow cinematic randomness on Twitter and Facebook where you'll find all my cinematic exploits. Thank you!