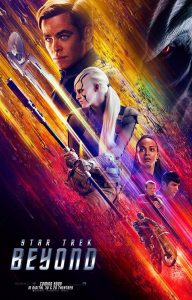 I've explored just about every major film franchise to some degree throughout my movie-going life, except for one. Star Trek for me was the final frontier; enticing but always reluctant to indulge due its sheer size. Last year I finally made the leap; first with a good portion of the original TV series, followed by several of the feature films. While I don't consider myself a "Trekkie", I am a fan nonetheless, settling into a comfortable spot in the middle as a causal viewer. Star Trek Beyond which marks the third instalment within the rebooted series, follows the crew aboard the USS Enterprise as they explore the furthest reaches of the uncharted space, where they encounter a ruthless enemy who stands to threaten the entire Federation with unfathomable destruction.
Opting for a more episodic approach as opposed to what has been seen previously, the essence of what made Star Trek a pillar of science-fiction cinema is translated wonderfully through this modern interpretation, in which the central characters come into their own displaying familiar traits that will no doubt be pleasing to long-time fans. The stakes could not be higher in this interplanetary adventure; with desperation being almost palpable as our heroes find themselves scattered across an alien landscape, fighting to survive and to re-join their fellow crew members. Action sequences are plentiful and equally exciting which boast an array of impressive visuals across the board; plus an added touch of contemporary music brings a slight tongue and cheek tone despite sounding very out of place in the futuristic universe. An uncanny resemblance to particular members from the original cast can be detected from their modern counterparts; Chris Pine especially who embodies the stoicism of William Shatner's Captain Kirk. While Zachary Quinto as Spock and Karl Urban as McCoy have great dynamic as the polar opposite duo, portrayed just as affectionately as Leonard Nimoy and DeForest Kelly.
After much anticipation leading up to its release, I'm very happy to report that Star Trek Beyond has the fundamentals of what makes a great movie experience. It's a tick in every box and will likely go on to be regarded as one of the best in the series overall.
STAR TREK BEYOND
(2016, dir: Justin Lin)
★★★★
You can follow cinematic randomness on Twitter and Facebook where you'll find all my cinematic exploits. Thank you!