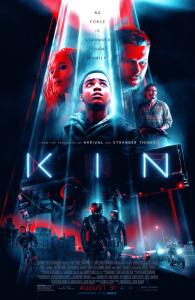 From brothers Jonathan and Josh Baker comes their big screen debut feature, Kin, a Stranger Things-esque action/sci-fi currently on a limited run in cinemas through Studio Canal. Based on the Baker's 2014 short film Bag Man, our story follows wayward ex-con Jimmy and his adoptive brother Eli, who are on the run with stolen money and a mysterious weapon of unknown origin. In hot pursuit of the twosome are a gang of vengeful criminals and two other-worldly soldiers.
Under a veil of mystery which does not lift until the film's closing minutes is a meaningful journey shared by our two young protagonists, who are each in search of identity, a sense of belonging and self-worth. These poignant themes are reflected via the film's primary location of Detroit, a city struggling to regain its once prosperous image of a booming local industry and secure employment. The reality of this sombre setting translates through numerous characters, most prominently Jimmy and Eli's father Hal, a stern world-weary figure played rigorously by Dennis Quaid; whereas our main antagonist Taylor, has relished in the widespread urban decay, becoming a local crime lord. James Franco is maniacal as the central villain and is aconstant threat throughout. Jimmy and Eli's journey is not without lighter moments as they cross paths with a good natured stripper Milly, played by Zoë Kravitz, adding a casual family dynamic. Action sequences and special effects are well executed, but shown with restraint as to not diminish the fundamental importance of the script. Visually, the film adopts a subtle neon glow with retro undertones and pays an affectionate homage to one cybernetic 80s classic, during the film's final act.
Kin appears to be flying a little under the radar of mainstream audiences, which is unfortunate because its two stars Myles Truitt and Jack Reynor show a lot of promise and carry themselves extremely well throughout what is a harsh, yet transcendent story of family.
KIN
(2018, dir: Jonathan Baker, Josh Baker)
★★★½
You can follow cinematic randomness on Twitter and Facebook where you'll find all my cinematic exploits. Thank you for visiting!