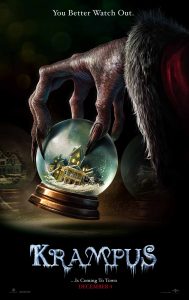 It seems like the 90s had Christmas movies down to an exact science. They were a tick in every box, combining traditional elements seamlessly with comedy while capturing the holiday magic. In this modern age some film-makers have opted for an edgier approach, lampooning the cynicism and stress we feel towards the festive season. Bridging these two distinctive eras is Krampus, that a looks at the other side of the coin when a young boy upset over another lousy family Christmas accidentally summons a demon etched in unspoken folklore.
Opening in a similar fashion to seasonal favourites such as Christmas Vacation and Home Alone, and effectively borrowing elements from both, viewers are treated with not only laughs but terror in this fantastical look into the holiday season. Rather than laughing at our protagonist's misfortune, the consequences that follow are of a sinister nature, allowing terror and mayhem to quickly creep in to what begins as a dysfunctional family comedy. A cast of genre veterans help lighten the mood, most notably David Koechner as the eccentric uncle Howard who is reminiscent of Cousin Eddie and Uncle Frank from the two classics mentioned above, although in a more realistic fashion. Adam Scott and Toni Collette are a nice match as wholesome parents, Tom and Sarah, while Allison Tolman is adorably offbeat as Sarah's sister and Howard's wife, Linda. An impressive showpiece that will no doubt delight fans of 80s cinema are the use of practical effects throughout the film. Not only does it help breathe new life into the tangible art form, but proves to be money well spent from a modest $15 million budget.
Krampus has been the biggest surprise in my holiday viewing, worthy of repeat viewings. If you want to make it apart of your yearly line-up, I highly recommend grabbing the Blu-ray from your nearest JB Hi-Fi which is chock full of special features.
KRAMPUS
(2016 dir: Michael Dougherty)
★★★★
You can follow cinematic randomness on Twitter and Facebook where you'll find all my cinematic exploits. Thank you!