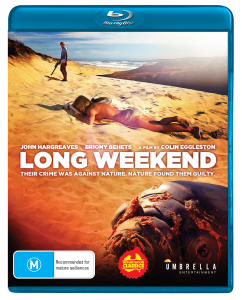 I write this review appropriately on the eve of Labour Day weekend for Victoria and Tasmania. However, like the two characters in the film I'm about to discuss, I won't be venturing far from home. Colin Eggleston's Long Weekend was released on Blu-ray last December by Umbrella Entertainment, who continue to champion Australian film from decades past. This eerie outdoor mystery follows a suburban couple who go camping at a remote beach where they slowly realize that nature is a force not to be reckoned with.
Environmental preservation has very much become a part of the national consciousness as we regularly celebrate and advertise our distinctive landscapes and natural beauty. Sadly, there is still a small portion of the population who have little to no regard for our picturesque wilderness. The embodiment of this contempt comes in the form of Peter (John Hargraves) and Marcia (Briony Behets), a bickering married couple whose volatile relationship in addition to their sheer arrogance, ignites a revolt from the sea-side setting. Hints of this building animosity range from subtle to downright spooky as the tranquilness carries with it a haunting atmosphere, creating a sense of foreboding.
Fans and first time viewers will not only appreciate the pristine picture and sound quality, but a generous offering of special features; which includes interviews, audio commentary and a 25-minute panel discussion with film historians Lee Gambin, Alexandra Heller-Nicholas, Emma Westwood and Sally Christie. All of which provide a fascination insight into the film.
Long Weekend is one Australian film I doubt will never lose it's impact of relevance. It's a beautifully photographed, well executed and wonderfully unconventional in terms genre norms and cliches. You can pick up a copy from a number of major entertainment based retailers including Sanity and JB Hi-Fi or Umbrella's official online store.
LONG WEEKEND
(1978 dir: Colin Eggleston)
★★★★
You can follow cinematic randomness on Twitter and Facebook where you'll find all my cinematic exploits. Thank you!