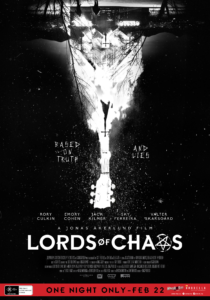 Swedish-born filmmaker and drummer Jonas Åkerlund has quite the impressive resume with 139 credits as director, mostly various music videos for the likes of Roxette, Madonna and Metallica just to name a few. With a body of work spanning over thirty-years, Åkerlund adds to his respectable list of feature films with the ultra-hard Lords of Chaos, set for a countrywide ONE NIGHT ONLY screening event this Friday, February 22nd.
Set during the early 90s with a focal point on Norway's black metal scene, a teenager sets out on a self-appointed quest to create a definitive form of the music sub-genre. However, his philosophy and antics bring about a violent and deadly outcome. Having never listened to any form of black metal in my life, its heavy use throughout the film had a jarring effect, prompting me to take a short break within the first 30 minutes. Behind the severe nature of this biography-drama, there's a relatable story of a young rebellious individual desperate to make his mark on the world, but who's dangerously in over his head. Prone to the foolishness and stupid decisions exhibited by many his age, those he attracts through his message of 'chaos' share is anti-establishment attitude, but are far more extreme and literal. Therein lies the tragedy. Åkerlund's unfiltered approach makes for some tough viewing at times, although I appreciate the film's rawness and true-to-life sentiments. His background in music videos clearly dictates the film's overtly ominous visual style accompanied by some eerily stunning cinematography, creating the illusion of a semi-conscious decent into hell. Rory Culkin in the lead role as Euonymus gives a strong performance, conveying the inner turmoil and fear that he tries so hard to hide. Supporting players prop up the film's edgier side, namely Jack Kilmer (son of Val Kilmer and Joanne Whalley), who is darkly humorous as the highly- disturbed Dead and Emory Cohen as the villainous Varg is a lit fuse and utterly terrifying in every scene he's in.
Lords of Chaos grabs you by the throat and roars until you can't take it anymore. It's an intense yet meaningful look at unique and controversial sub-culture; not to mention an insane crash course in Norwegian black metal. With some seats still available, visit Monster Fest for a complete list of screening locations throughout Australia and New Zealand. More details can also be found at the web site of distributing partner Umbrella Films.
LORDS OF CHAOS
(2018, dir: Jonas Åkerlund)
★★★½
You can follow cinematic randomness on Twitter and Facebook where you'll find all my cinematic exploits. Thank you for visiting!