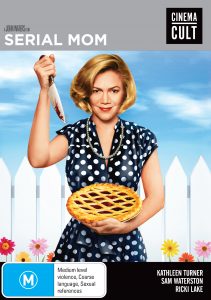 I vaguely remember the poster for Serial Mom hanging inside my local video store upon its release to video cassette as my attention was likely more focused on D2: The Mighty Ducks. Over twenty years later the dark comedy has only now managed to pique my interest thanks to a radio program I regularly listen to, which enlightened me to the fact that this film is a product of none other than flamboyant director, John Waters. While I hadn't seen any of his features at that point, the tidbit of information was undeniably strong selling point. Setting his sight on white-collar America, Waters introduces audiences to a seemingly humble house wife and mother who goes to extreme lengths in defense of not only her beloved family, but of morals and common decency based on her distorted view of reality.
There's a surreal quality to Serial Mom, which is a key factor in how the film is able to excel so easily in providing a unique experience for the viewer. We never really know exactly what caused our homicidal lead to snap so drastically; that we can only speculate. Perhaps it was the monotonous duties of her role as house-hold figure, which could be further interpreted to the director's absurdist view on suburban life, where horrific actions are sometimes met with both widespread condemnation and admiration from otherwise silent minorities. Kathleen Turner who portrays the titular character appears to relish in every moment of her insane performance. You can tell it's a role that allowed a lot of creative freedom for the veteran actress. Supporting players do a great job in making their presence known, such as Matthew Lillard as the horror movie obsessed Chip and his love-sick younger sister, Misty, played by Ricki Lake.
I hope you'll forgive me for not divulging much detail of what to expect from this twisted comedy, as I would hate to lessen the impact of the film for first time viewers. If you're in Australia, you can find Serial Mom on DVD and Blu-ray under the label Cinema Cult; it will be the best blind-buy you'll likely ever make.
SERIAL MOM
(1994, dir: John Waters)
★★★★
You can follow cinematic randomness on Twitter and Facebook where you'll find all my cinematic exploits. Thank you!