Adapted from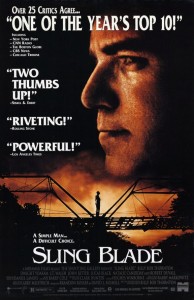 his own short film, 'Some Folks Call It a Sling Blade'; writer and director Billy Bob Thornton tells the story a mentally handicapped Arkansas man named Karl Childers who is released from a psychiatric hospital where he has lived since childhood after committing murder. Although mildly institutionalized, Karl returns to the town where he was born and raised to start a new life.
I had been wanting to see 'Sling Blade' for a number of years, but the opportunity never presented itself until recently. Now that I have finally seen it I'm pleased to say that I thoroughly enjoyed this endearing drama, which was deeply moving and sad in equal measure. It's quite realistic in the sense that a man of Karl's kind simple minded nature and demeanour is met with both kindness and hostility among the residents of a small rural community. Thornton does a great job of capturing the behaviours and attitudes, as friendship and acceptance are two very poignant themes throughout the film. This is explored beautifully through the relationship Karl quickly forms with 12-year-old Frank Wheatley (Lucas Black) upon returning to his home town. Their connection is very sweet and presents some interesting parallels to Karl's own childhood and traumatic upbringing. Frank's acceptance of Karl despite his past is particularly touching in contrast to others who take a very ignorant and untrustworthy stance. Billy Bob Thornton's performance as Karl Childers is a captivating psychical transformation. While his body language is limited, his struggle to comprehend and adjust to the world around him after many years of incarceration is still very evident. There are moments of peculiar behaviour which act as subtle suggestions that old thoughts may be re-emerging. Credit must also go to cinematographer Barry Markowitz, who captures the natural serenity of it's very scenic location in stunning detail. In addition his clever use of light and colour contribute to the film's emotional impact.
Since it's release 'Sling Blade' has become a staple in dramatic film-making of the 1990s. It's a triumphant character piece which will more than likely leave a lasting impression upon the viewer.
SLING BLADE
(1996, dir: Billy Bob Thornton)
★★★★
You can follow cinematic randomness on Twitter and Facebook where you'll find all my cinematic exploits. Thank-you!