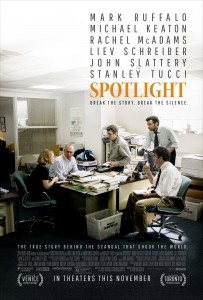 I'm not sure why some films jump out at me more than others. Like most people it's typically due to a favourite actor, director or the film's story. I think initially for me, in regards to 'Spotlight' it was something deeper; my investigative mind or perhaps the yearning for a change in career. Now that I've seen the Best Picture nominee, that's definitely what it was. Based on a true story, a team of reporters for Boston Globe uncover a massive scandal of child-molestation and the resulting systematic cover-up within numerous Catholic Archdiocese throughout the city and surrounding areas.
Devoted almost entirely to the tireless work of journalism, this riveting drama engages viewers with many twist and turns throughout a multi-layered, and ever developing plot. The sensitive issue of child sexual abuse is handled with care and a degree of compassion, while at the same time not sanitizing the specific details or their extent; bringing to light the horrific nature of the crimes committed by ordained individuals. Performances from the central cast are well defined and diverse in their response towards to the prolonged assignment. Mark Ruffalo as Mike Rezendes, an on-point reporter finds himself emotionally invested, whereas Rachel McAdams who portrays Sacha Pfeiffer, worries how the investigation will impact her Catholic grandmother. On a wider scale Michael Keaton as Walter Robinson, the elder member of the team, feels guilt over not pursing past leads and upholding a small town attitude amongst colleagues. Despite the delicate subject matter, there's an endearing quality to 'Spotlight' in how it celebrates the heroes of investigative reporting. Their constant diligence, moral and ethical standing is not only encouraging, but especially inspiring. I left the film with a fleeing of immense admiration for the characters I spent just over two hours watching.
In light of the ongoing Royal Commission into Institutional Responses to Child Sexual Abuse here in Australia, there a number of alarming similarities to what was uncovered by the Boston Globe, which reiterates a point the film makes, which is the sad truth of there being no limit to what people will turn blind eye towards for the sake of personal agenda or risk of exposure. I only hope that 'Spotlight' encourages victims and people aware of abuse to speak out, so that one day this ugly stain can be swept clean from our institutions, at home and abroad.
SPOTLIGHT
(2014, dir: Tom McCarthy)
★★★★½
You can follow cinematic randomness on Twitter and Facebook where you'll find all my cinematic exploits. Thank-you!