I'm not entirely sure why, but I've always had a profound fascination with Yallourn North. Perhaps it's the scenery or the fact that I often liken the quiet little town to many of my favourites works of fiction. 
Since February last year, Haunted Hills Tours has unearthed much of the deep seeded history of what was formally known as 'Brown Coal Mine'. Deviating slightly from the regular ghost tours, owner and ghost whisperer, Tegan Dawson has recently begun exploring varying stories of crime, from general thievery to bizarre acts of ghoulish behaviour. Many were of an interpretive nature, some even falling into the category popularised by numerous TV shows, such as cold cases. One particular story which stood out to me has it's origins deep within urban myth, with some living residents still in firm belief of it's macabre element. Unlike past tours, there was much interaction this time round, with participants being asked to guess a crime's charge, penalty and in some lesser cases, the amount of the fine. This gave a striking perspective in comparison to today's standard of lawful punishment; not to mention the staggering rate of monetary inflation.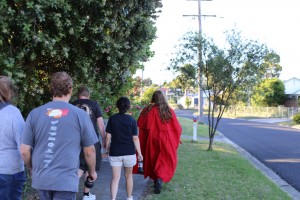 Yallourn North's rich and often colourful history proves that criminal acts can occur anywhere under a multitude of circumstances, but also that people have chosen the predominantly peaceful community as a place of refuge or for starting over due to past mistakes throughout one's life. Tegan reiterates these sentiments very well, in a professional and informative manner.
You can follow cinematic randomness on Twitter and Facebook where you'll find all my cinematic exploits. Thank-you!