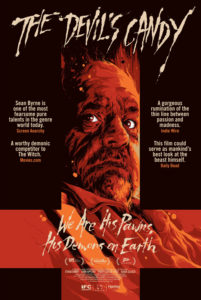 Mandy Moore once sang, "I'm missing you like candy." Although, she probably wasn't referring to the satanic kind, which is apparently heavy metal as we discover in The Devil's Candy, an indie horror gem from director Sean Byrne. Starring 'The Base Player' from That Thing You Do, Ethan Embry, a struggling painter becomes processed by a mysterious force after moving into a Texas farmhouse with his wife and teenage daughter, one that harbours a sinister past.
The Devil's Candy didn't arrive in Australia until 2017, coincidentally on my birthday, subject only to a DVD release, but nevertheless, this unique satanic piece is among the best new titles I watched this October. With a music-oriented family at its core, heavy metal serves as a binding agent for a series of disturbing events that unfolds when a troubled stranger, Ray Smilie begins to stalk daughter, Zooey. Plagued by demonic voices, the only relief for Ray is suppressing the sounds by blaring tunes from his electric guitar …and human sacrifice. While this looming threat intensifies we spend most of the 79-minute runtime with protagonist Jesse (Ethan Embry), who under the strain of a backbreaking new mortgage is suddenly struck with inspiration of unknown origin. His already extreme artistic style takes a dark turn with depictions of what he feels are things to come. I've seen a lot of satanic-themed movies and while I don't normally gravitate towards the genre of music celebrated in this title, the two seem to almost go hand-in-hand, but that's not a slight against metal fans. Temptation is shown to be at its strongest when we're desperate or venerable and how the unexpected intrusion of something beyond our understanding is automatically perceived as bad. Jesse encompasses this anxiety in a manner that's relatable to anyone in the position of supporting a family and his journey is a whirlwind experience for the audience, born from the fires of hell. Ethan Embry, who honestly isn't someone I would picture in a film of this nature, turns in solid performance as Jesse and really looks the part from head to toe, a role not far removed from his real-life persona. Ominous cinematography plays a significant part in establishing the mood, with low light and a distinctive colour pallet that stokes the flames, which is are mostly digital. However, they blend in well with the heightened visual style.
If you're any type of horror fan The Devil's Candy needs to be unwrapped, even if it's just for the acoustics, which are almost a secondary line of dialogue between the otherworldly forces and our characters.
THE DEVIL'S CANDY
(2015, dir: Sean Byrne)
★★★★
You can follow cinematic randomness on Twitter and Facebook where you'll find all my cinematic exploits. Thank you for visiting!