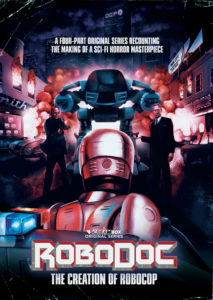 Christopher Griffiths and Gary Smart wax nostalgic for the movies that made us like no other duo of filmmakers. While celebrational, their retrospective approach isn't just through the lens of rose-coloured glasses. Instead, it's often objective, not shying away from controversies or general negativities associated with the making of certain classics, and their latest effort, RoboDoc: The Creation of RoboCop, is the perfect example of a broad look back. – An all-new exclusive 4-part documentary series to Screambox, with episodes titled as follows…
Delta City
Paul Verhoeven's Mantra
Blood, Sweat & Steel
Murphy & the Machine.
I watched RoboCop at a very young age and goodness knows what my parents were thinking at the time. It's easily among the first five movies I remember watching with Clarence Boddicker's sadist line, "Can you fly, Bobby?" followed by Murphy's brutal slaying accompanying other fond childhood memories like binging on Caramello Koalas and watching Sesame Street.
RoboDoc quickly brings to light that RoboCop was a problematic shoot, to put it lightly. With an autocratic/tyrannical Paul Verhoeven at the helm, coupled with a production that was largely an occupational hazard, many actors and the stuntmen were needlessly put in harm's way due mostly to excessive use of squibs. This chaotic narrative is embraced by the series' directors, Eastwood Allen and Christopher Griffiths, along with the former cast and crew members, who are now able to laugh off their shared turmoil.
While each episode has a loose focus on a particular element relating to the film, they more-or-less blend into one another quite seamlessly. I found a lot of joy in being reacquainted with Clarence's diverse gang of 'Old Detroit' scumbags, who make a career in character acting sound irresistible. Anecdotes from actors Kurtwood Smith and Ronny Cox, who play Robo's main adversaries, are amusing in how they found their inner baddie, with Smith even sacrificing some ribs in the process. It's unfortunate that Miguel Ferrer couldn't be a part of the series due to his untimely passing in 2017, but some carefully selected behind-the-scenes footage complements the actor's charm and shows off that shit-eating grin when 'praising' Verhoeven as his director. It's priceless.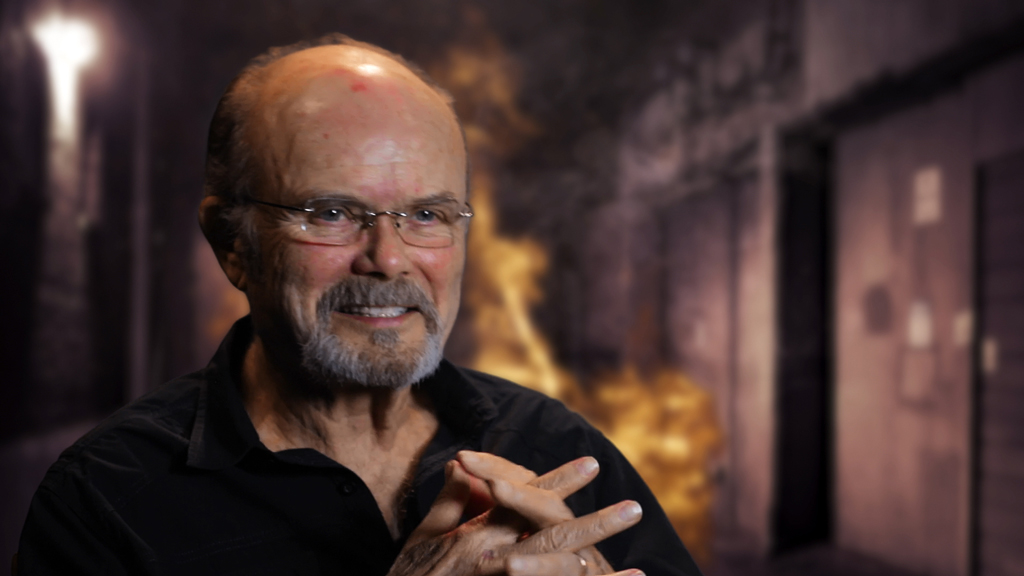 Naturally, the film's star, Peter Weller, talks lengthily and is more philosophical than a Tibetan monk as he delves into the many themes of RoboCop; such as the parallels to Christ and the satire on Reagan's America. He's quite full-on and clearly an eccentric dude, but his passion for a role that cemented him into pop culture immortally is more than obvious.
What did I learn from RoboDoc? Verhoeven's salacious appetite for excess could never be satisfied, and the number of recourses and money poured into the production mirrored the film's portrayal of 80s overconsumption. Considering the series has been over five years in the making, the effort and longevity of all those involved should be commended as the result is a thoroughly entertaining dissection and tribute to one of the 1980's most seminal action blockbusters.
I would like to thank Alex from Simply Legendary Publicity for the advance digital screener, which was a pleasure to watch each morning before starting my day.
You can find Episodes 1 and 2 of RoboDoc currently streaming on Screambox with Episodes 3 and 4 set to drop on September 12 and 19 respectively. As for the physical media market, a Blu-ray release has just been announced, billed as RoboDoc 4.5, for the U.S. (October 17) and UK (December 18) plus a Walmart Exclusive Steelbook – Follow the Facebook page for details!
ROBODOC: THE CREATION OF ROBOCOP
(2023, director: Eastwood Allen, Christopher Griffiths)
★★★★½
stills courtesy of Simply Legendary Publicity
You can follow cinematic randomness on Twitter and Facebook where you'll find all my cinematic exploits. Thank you for visiting!