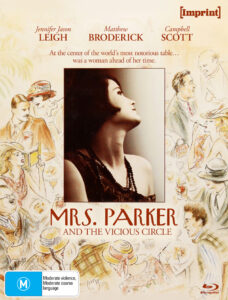 Imprint Films have the ability to weed out the classic titles that would normally be filed under "Movies You Probably Haven't Heard Of" and the latest in that category is Mrs. Parker and the Vicious Circle, released back in August.
Robert Altman protégée, Alan Rudolph, directs this very sociable biography drama, centred on writer, poet, critic, and satirist, Dorothy Parker, during her formative years in the 1920s. Much of which was spent with a circle (both literally and figuratively) of like-minded pals, who were all unbeknownst to each other, playing a life-long game of 'who has the most tolerant liver'.
Jennifer Jason Leigh stars and excels as Mrs. Parker, a woman very much ahead of her time, armed with razor-sharp wit and lightning-fast retort, much like many of her contemporaries. Admittedly, I struggled to get into the story at first as many of the characters are a little on the insufferable side, but as I got to know Dorothy, I could relate to the agony and ecstasy that comes with writing. Of course, I'm not claiming to be anywhere near her level of talent. Dorothy's creative highs and lows compounded with a fractured marriage and love life, and gradually taking company with alcohol; I find her very comparable with Jim Carrol, another individual who possessed a unique voice, whilst in the grip of addiction. However, the author's life is not completely devoid of colour: her emotional affair with the reserved humourist, Robert Benchley (Campbell Scott), brings some warmth and genuine depth of feeling to her world, where emotion is rather superficial, and in which the men in her life are only after one thing.
With most biographies, we're treated to glamorized dramatizations of the subject's most well-known achievements, but with Mr. Parker and Vicious Circle, it's reversed. Dorothy's 'origin story' if you like, is the focus here whereas her post-success years in the late 30s to 1950s are in black and white, and come with a feeling of melancholy rather than the usual sense of a life well lived.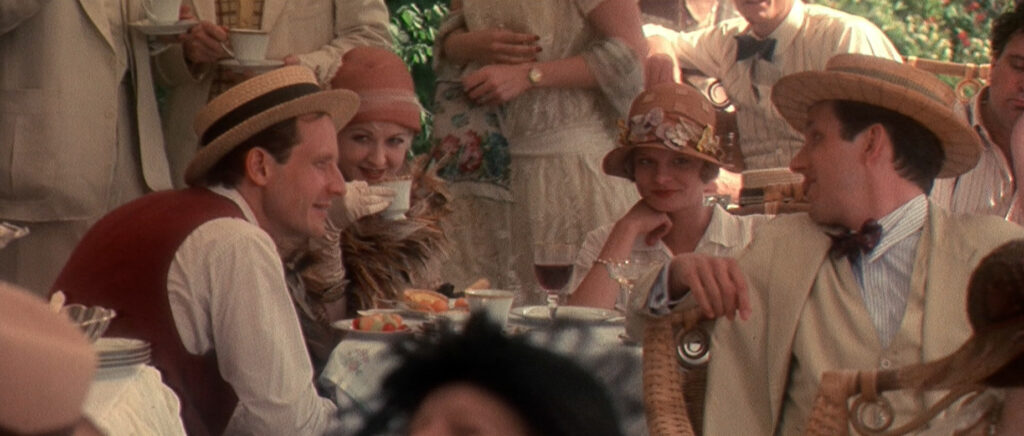 SPECIAL FEATURES
Audio Commentary with director/co-writer Alan Rudolph
NEW Playing Real People – Interview with actor Campbell Scott (2023)
NEW A Reflection of a Reflection – Interview with director/co-writer Alan Rudolph (2023)
NEW Casting Human Complexities – Interview with casting director Pam Dixon (2023)
Would You Kindly Direct Me to Hell? The Infamous Dorothy Parker – documentary
Interview with composer Mark Isham (2006)
Archival interview with director Alan Rudolph (1994)
Theatrical Trailer
TV Spot
For this release, Imprint delivered over an hour's worth of new interview content with three key individuals who helped bring Mrs. Parker and the Vicious Circle to life. In under 20-minutes supporting star, Campbell Scott, enthusiastically recounts his unconventional casting process, approach to playing a real-life individual, and what he appreciates about the film 30+ years later. Alan Rudolph's 35-minute interview is highly illuminating and never boring as he discusses his fascination with Dorothy Parker and the Algonquin Club. The director also shares some amusing anecdotes about working on a tight, and sometimes non-existent budget. An interview with a casting director has never been more appropriate than for a film such as this, as Pam Dixon discusses the unconventional process employed by Rudolph and Altman for finding such a large cast. Regarding archival content, the commentary track by the film's director is recommended listening as it gives real-life context for each scene. – by Hannah Lynch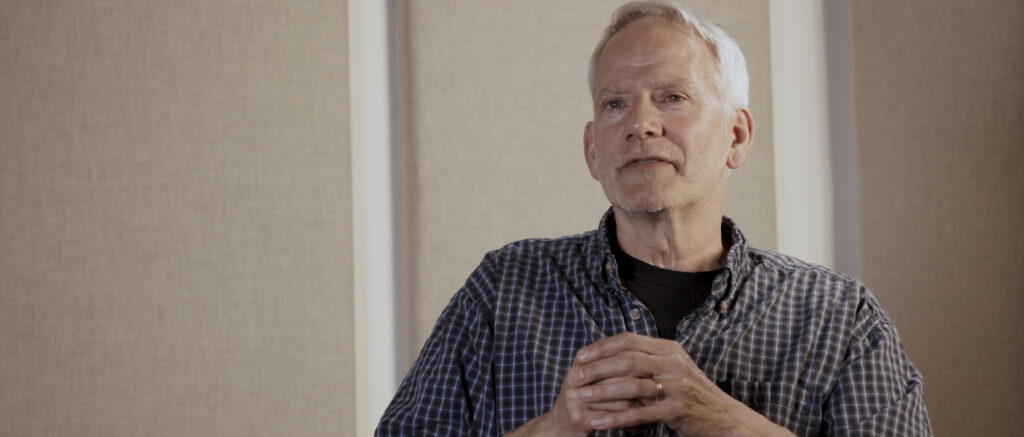 VIDEO AND AUDIO
Mrs. Parker made her debut on the circular HD format ten years ago in Spain, and Imprint's limited-edition Blu-ray treatment is the first since then which presents a 1080p rendering from 2K scan in widescreen 2.35:1, varying slightly from the film's original 2.39:1. It's difficult to criticize the picture quality as I feel there's a deliberate style being used here. The image has a very specific colour pallet and texture employed to emphasise the late 20s. The black-and-white sequences seem to have a bit more clarity.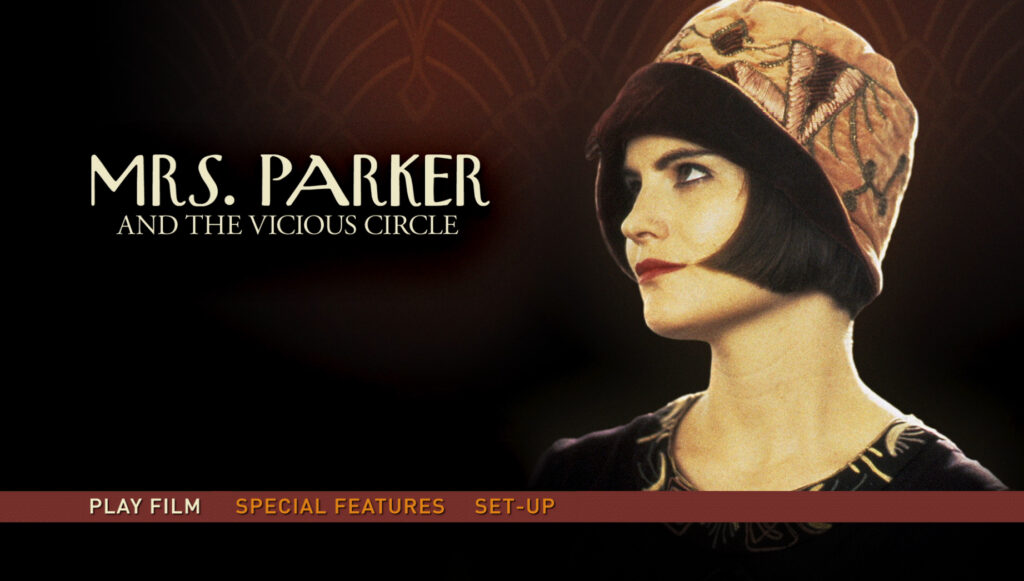 LPCM 2.0 Stereo offers loud dialogue, which makes for easy listening as there are no explosions to contend with or fancy modern audio mixing. Just clear voices coming out of two speakers. English HOH subtitles are included, which might be a tad difficult to follow with all the overlapping chatter.
Mrs. Parker and Vicious Circle is so much more than Jennifer Jason Leigh doing a Kathern Hepburn impression for two hours. It's a bittersweet story of the personal despair that comes from not living up to one's full creative potential. While there is much sorrow and pity, the film is often lively thanks to the assorted cast of catty personalities played nepo-baby actors, from Keith Carradine to Gwyneth Paltrow. Imprint is still well stocked with this title, which you can order online from their website.
MRS. PARKER AND THE VICOUS CIRCLE
(1994, director: Alan Rudolph)
★★★★
Head over to the Imprint Films Facebook page for the latest releases, giveaways, great deals and more!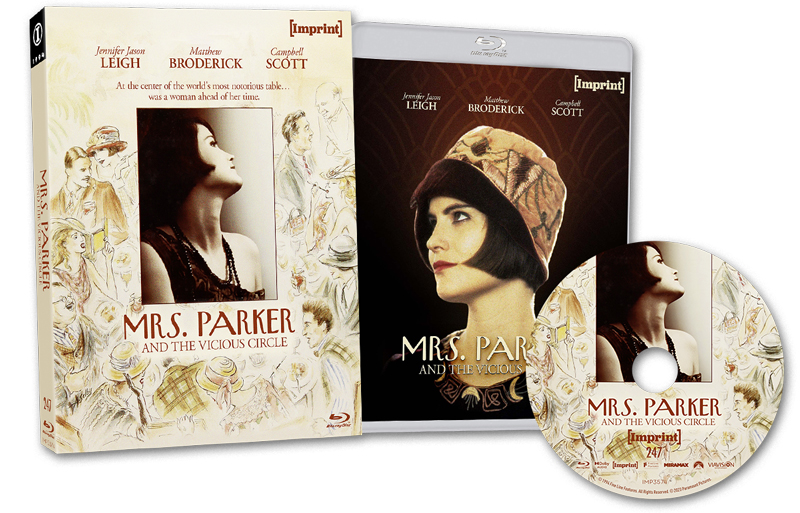 direct blu-ray screen captures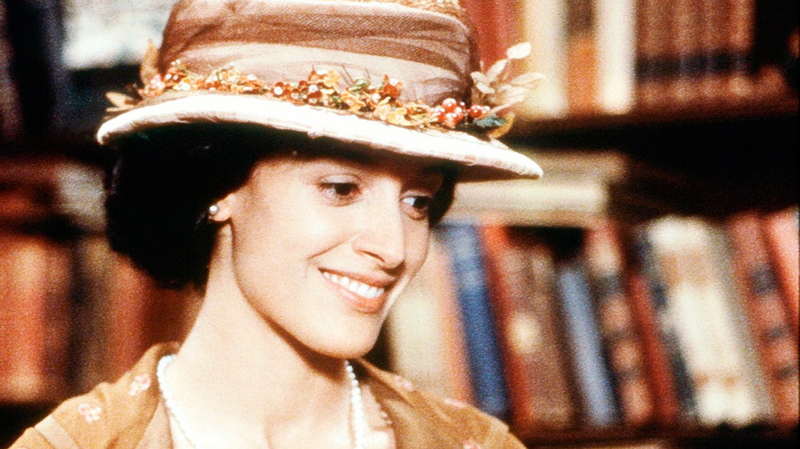 production still courtosy of Imprint Films
You can follow cinematic randomness on Twitter and Facebook where you'll find all my cinematic exploits. Thank you for visiting!