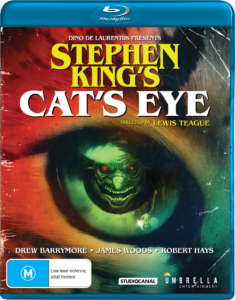 Much like a stray cat begging for a home, I plucked a shabby DVD copy of Cat's Eye out from a $5 bin last October. Always in the mood for a horror anthology during the spooktacular month and since NBN workers accidentally cut off my phone and internet (hooray for government infrastructure), I thought why not. Fast-forward 12 months later and Umbrella Entertainment have given this 80s classic a new lease on life in a gorgeous Blu-ray release, complete with exclusive artwork designed by the one and only Simon Sherry. Comprising of three segments written by Stephen King, each story is connected by the presence of a stray cat, beginning in an incidental role as a wondering observer to a significant character by the film's end.
"Quitters, Inc." introduces us to walking chimney Dick Morrison, who is advised by a friend to join the radical Quitters, Inc in order to kick his smoking habit. After a consultation from a mob-like councillor Dr. Vinny Donatti, played perfectly by Alan King, Dick is warned that in the event of a relapse, horrific consequences will follow, that will in time extend to his wife and child. While not ticking many of boxes in terms of conventional horror, this opening short is a rather grim, yet entertaining slice of dark comedy with a premise that I personally think is quite clever, not to mention being a valid statement towards the vice-like grip of nicotine addiction. James Woods, who is no stranger to playing tough guys, is on the other end of the spectrum as Dick, at the mercy of his new "friends". His on-edge persona is well suited to the character. Moving on to the middle act of "The Ledge" our feline guide encounters a gambler and former tennis pro who is subjected to blackmail at its cruelest and most dangerous by a crime boss, who loves an honest bet. Despite not being as engaging as what came previously, there's a neat Twilight Zone-esqe quality to this piece that's firmly grounded in reality, although far fetched at times. Robert Hays is sympathetic as protagonist Johnny Norris who risks life for happiness in what is ultimately a detour towards the much more momentous final chapter. "General",  features our film's namesake who has ended up in Wilmington, North Carolina, adopted by little Amanda, played by Drew Barrymore.  Superstition and childhood fantasy are prominent themes as General becomes a protector against that little critter we've all insisted was hiding somewhere in our bedroom, under the cover of night. Some fun effects and light family-oriented horror eases the viewing through this final segment, leaving a pleasant feeling of satisfaction as the final credits roll.
VIDEO/AUDIO AND SPECIAL FEATURES
I'm honestly surprised by how good the picture looks. Video is crisp with strong colour and plenty of depth, filling the screen in Full HD, 16:9 widescreen, while audio is clear and immersive in 2.0 DTS-HD Master Audio. Worldwide exclusive extras include interviews with actors Robert Hays and animal trainer Teresa Ann Miller that are well worth checking out, plus there's a theatrical trailer to boot.
Umbrella Entertainment have done Cat's Eye and its fans a great service with Australia's first Blu-ray release. While the film itself does have some inconsistencies, the price of admission is well worth what's on offer!
CAT'S EYE
(1985, dir: Lewis Teague)
You can follow cinematic randomness on Twitter and Facebook where you'll find all my cinematic exploits. Thank you for visiting!