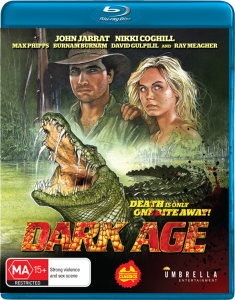 Due to some unfortunate events prior to its release, Dark Age never made it to cinema screens in Australia. Fourteen years later the now-Ozploitation classic finally found its way on home video in the form of very modest DVD by Umbrella Entertainment. However, fans can now rejoice as Dark Age has been given the long-awaited Blu-ray treatment it deserves by the very same distributor, one who have championed the film for years.
In the tradition of Steven Spielberg's Jaws, we follow an Outback park ranger and two aboriginal guides who must track down a giant crocodile that has been killing and devouring the locals. Believed to be an embodiment of spirits from our accident past by the indigenous populace, they want the massive beast preserved, which puts our trio at odds with a stern corporate developer. In many respects Dark Age has the ingredients of your typical creature feature, but stands out as distinctive adventure/horror due a central theme of nature's power and the deep spiritual connections held by aboriginal peoples. Despite somewhat of a cheesy quality, there are a few legitimately jaw-dropping moments and the creature effects, while dated in parts, hold up reasonably well and give the viewers a good sense of the danger our main characters are up against. John Jarratt (Wolf Creek) is capable as ranger Steve Harris, while Burnham Burnham and David Gulpilil both inject a light tongue-in-cheek tone yet are still instrumental in conveying the more serious environmental subtext.
VIDEO/AUDIO AND SPECIAL FEATURES
Given the obscurity of Dark Age we're presented with exceptional image quality, full high definition in every respect. However, while Umbrella did endeavour to achieve the same feat in audio, only a 2.0 Dolby Digital track was available and in all honestly sounds perfect fine. Bonus content is in good supply featuring commentary with John Jarret and executive producer Antony I. Ginnane, A Bicentenary with Bite: Revising "Dark Age" (panel discussion with film historians Lee Gambin, Alexandra Heller-Nicholas, Emma Westwood and Sally Christie), the 1986 documentary Living with Crocodiles plus a variety of interview, trailers.
Overall you couldn't ask for a better edition of Dark Age, which will no doubt help the almost forgotten Australian feature find a new audience!
DARK AGE
(1987, dir: Arch Nicholson)
★★★★
You can follow cinematic randomness on Twitter and Facebook where you'll find all my cinematic exploits. Thank you for visiting!