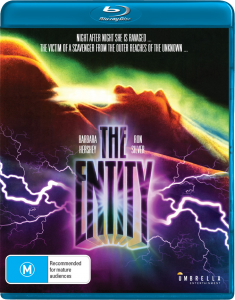 Based on one of the most extraordinary cases in parapsychology, The Entity is a supernatural thriller that has experienced somewhat of a resurgence in recent years due to the wave of true story-inspired horror films like The Conjuring. Sidney J. Furie's classic returns to Blu-ray in what can only be described as world class release by Australia's very own Umbrella Entertainment; reintroducing audiences to Carla Moran (Barbara Hershey), a single mother of three who is sexual assaulted and relentlessly tormented by an invisible assailant inside her California home.
Having revisited The Entity since my first viewing three years ago, the film definitely hasn't lost its impact, which in part stems from horrific scenes where our protagonist is violently brutalized, often without warning. While there is no visual reference for the malevolent force, it's sinister nature and heinous acts provide plenty of fuel for the viewer's imagination. With the foundations of a genuinely frightening horror movie laid in the first 20 minutes, the psychological implications of Carla's experience are explored thoroughly by psychiatrist Dr. Sneiderman (Ron Silver), who provides a fascinating interpretation of the events in question despite their actuality. Unfortunately, there are times when the intensity and intrigue is marred by melodramatic moments, in particular the picture's big Hollywood climax; but performances from both Barbara Hershey and Ron Silver help maintain a level of seriousness befitting to the subject matter.
VIDEO/AUDIO AND SPECIAL FEATURES
Borrowing elements from the film's French theatrical poster, designer and illustrator Simon Sherry has arranged both a striking and haunting cover that will be hard to miss on retail shelves. Presented in 1080p high definition and 5.1 dts, clarity is highly evident in both picture and sound. Deep blacks and with ample film grain give the feature a polished yet authentic appearance. Melbourne based 'film collective' Cinemaniacs have produced two featurettes for the Blu-ray, the first being Finding a Voice: A Conversation with Composer Charles Bernstein, which covers in great detail the significance of music used throughout the film, and how it elevates the emotion and tone of certain scenes. Secondly, Robert McNaughton remembers The Entity is a brief interview in which the (E.T. the Extra-Terrestrial) actor reflects on his audition for a part he ultimately did not gain. Other extra content includes a theatrical trailer plus poster and stills gallery.
Available to purchase online and in stores from September 6th The Entity is a must-own for classic and modern horror fans alike!
THE ENTITY
(1982, dir: Sidney J. Furie)
★★★★
You can follow cinematic randomness on Twitter and Facebook where you'll find all my cinematic exploits. Thank you for visiting!