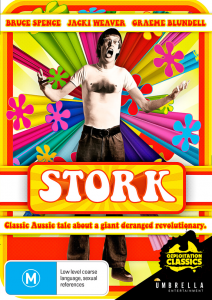 Arriving on store shelves tomorrow (September 7th) is the Australian cult classic, Stork, thanks to local distribution house Umbrella Entertainment. This re-issued release comes with a generous amount of bonus content detailing the film's conception to its triumph as a commercial success; the very first of the Australian New Wave. Striking a cord with the counter-culture movement of the late 60s and early 70s, Stork follows the antics of a 6-foot 7 self-proclaimed anarchist, Graham 'Stork' Wallace, who is sacked from his job at General Motors Holden during an act of protest against "the system". Now unemployed, Stork moves into a shared house where he dreams of revolution while in search for a sense of identity and purpose.
Very much a product of its time, Stork is a quirky and highly obscure social comedy, exploring the lives and attitudes of young adults in a rapidly changing society where an appreciation for the arts and alternative thinking is not only more prevalent but openly encouraged. The film's titular character is portrayed by Bruce Spence in his first screen performance; his caricature like appearance and larrikin behaviour complements the film's oddity and break from convention. It's a role synonymous with the New Zealand born actor right up to this day. Also making their big screen debuts are Graeme Blundell as Stork's best mate and former work colleague, Westy, and Jacki Weaver as potential love interest, Ann. Both young performers provide a balanced contrast to the lead protagonist's eccentricities; Westy exuding a very casual demeanour while Ann is a vocal free spirited woman.
Umbrella Entertainment have presented Stork appropriately for its prospective audience; retaining much of the film's vintage quality in regards to picture and sound. Complete with some fun cover and disc art the DVD menu is simple and easy to navigate. Other bonuses include the 1974 short film Three Old Friends and an accompanying making-of featurette. As mentioned above Stork is available to purchase on DVD from September 7th. You'll find it in stores and online at JB Hi-Fi, Sanity and of course by visiting Umbrella's web site.
STORK
(1971, dir: Tim Burstall)
★★★★
You can follow cinematic randomness on Twitter and Facebook where you'll find all my cinematic exploits. Thank you!