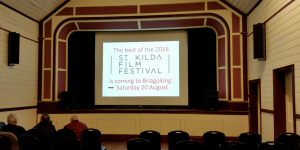 Last Saturday night inside the walls of Briagolong's Mechanics Institute residents of East Gippsland were treated to a selection of short films from this year's St Kilda Film Festival, currently on national tour. In the capable hands of the those behind the successful annual Briagolong Film Festival, this pioneering event for the tiny country-town kicked off with a selection of award winners.
Best Documentary 'You Better Take Cover' was the evening's longest film coming in at nearly 30 minutes, exploring the plagiarism case between iconic band Men at Work and those retaining copyright to the classic Australian musical fable, Kookaburra Sits in the Old Gumtree. While thoroughly enjoyed by those in attendance, most of whom (including myself) would agree that the incident in question was more a case of opportunistic greed rather than a just cause for legal satisfaction. The mood was then appropriately lightened with the Best Animation winner 'The Orchestra'; a clever little 15-minute piece in which music is used creatively to convey the sentiments of individuals from all walks of life. Following what was undoubtedly a crowd-pleaser came the hard hitting 'Bluey' (Best Actor, Best Indigenous Film) in which a young woman finds herself trapped in a life of violence and social challenges, struggle to survive let alone break free. Taking us into the show's intermission was my personal favourite of the night, 'Death in Bloom' (Best Short Film, Best Comedy, Best Achievement in Editing) a darkly comedic tale of an elderly women's determination to find a death most befitting of her dignified tastes.
An impressive array of nine features concluded the event, all together spanning a near hour and twenty minutes. Strategy on the part of the show's presenters, and the variable subject matters throughout each piece kept viewer's interested, and prevent the night from "dragging". From a heartfelt tale of grief and companionship in 'Spa', to the joy of self-fulfilment from one's hobby in 'Birds of a Father, the variety of on offer could not have been more interesting and inspiring. Personal stories spanning generations along with analogies of love and life were beautifully represented through the cinematic medium, serving as a proof of the emerging talent that continues to spring from this culturally diverse nation.
I would like extend my congratulations to everyone involved on a wonderful evening out in the sticks. Briagolong is a town that goes far beyond the mundane expectations of most rural communities, bringing culture and art to furthest reaches of Gippsland.
You can follow cinematic randomness on Twitter and Facebook where you'll find all my cinematic exploits. Thank you!