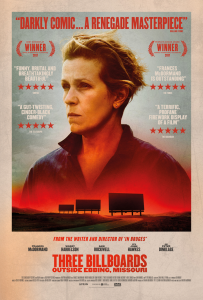 Having lived in a rural area since birth, the fabric of small town life and community is something I've come to observe more closely over the years. Comprising of more than just simple pleasures and modest living, there's an inadequacy and attitude of complacency rife in my corner of the world that's become hard to ignore. These undesirable qualities are prominent themes in writer and director Martin McDonagh's latest feature, Three Billboards Outside Ebbing, Missouri, in which a grieving mother calls out local law enforcement via highly unconventional means for failing to catch the individual who brutally murdered her daughter months prior.
Anyone harbouring anger over an injustice or having been wronged by another will find characters in this film very relatable, especially its lead Mildred, played by Frances McDormand; a strong willed woman who's pent up emotion spills over into drastic and questionable action. One of the biggest draw cards to Three Billboards for audiences has been the style of this abrasive drama, which arches back to the uncompromising era of 70s cinema when a film could encapsulate a relatively small place/situation and make it feel like nothing else matters, reconfiguring the centre of our universe for 90 minutes or more. Frances McDormand is at her best as Mildred, while Best Supporting Actor favourite Sam Rockwell is reprehensible as the blatantly incompetent sheriff deputy Dixon; two characters with more in common than they realise and significant to the films overall message. Woody Harrelson and Caleb Landry Jones also deliver notable performances as two of Ebbing's kinder citizens.
Trips to the cinema has been frequent this past month and with one more on my list, I doubt it will eclipse Three Billboards Outside Ebbing, Missouri which is deserving of all the overwhelming positive praise, it's that good!
THREE BILLBOARDS OUTSIDE OF EBBING, MISSOURI
(2017, dir: Martin McDonagh)
★★★★½
You can follow cinematic randomness on Twitter and Facebook where you'll find all my cinematic exploits. Thank you for visiting!