"Normal is an illusion. What is normal for a spider is chaos for a fly." – Charles Addams  
After many months of preparation, the results were more than evident from the moment I took my seat inside the West Gippsland Performing Arts Centre this past Friday night in Warragul. An ambiance of pale moonlight accompanied by a gentle blanket of evening fog played upon the rot iron gates of the Addams' estate, followed by an overture of that instantly recognizable classic jingle. The Addams Family (The Broadway Musical) was about to begin!
Performed by the constantly evolving Class Act Productions Inc. in what was their second show of year following the highly successful Annie Jr. back in May, the cast and crew of the Gippsland based theatre company delivered a professional flair to their latest musical endeavour. Based on the characters created by Charles Addams; this original story revolves around morbid darling Wednesday Addams, who has grown up and fallen in love with a sweet but somewhat peculiar young man, much to the dismay of her eccentric family. The cast of budding young performers aged from 15 to 25 were wonderful to watch as they conveyed the sentiments of a rather meaning narrative which explored the one's perspective of normality, the burden of secrets and fear of inevitable change. Decorative and highly detailed sets made suspension of disbelief an absolute breeze, not mention setting the mood and tone befitting to the "all together ooky" cast of characters.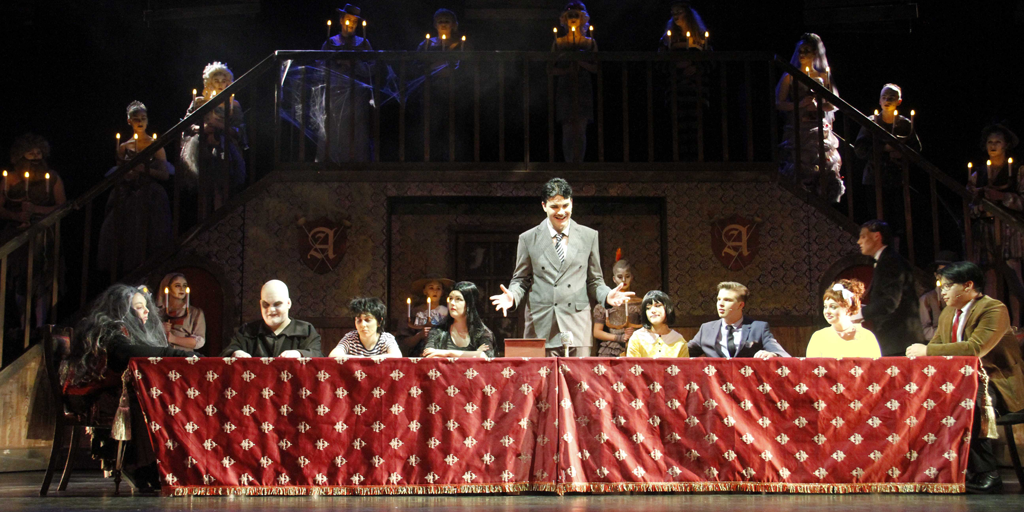 While reminiscent of their earlier counterparts, the principal cast gave us fleshed out versions of the characters who have been previously popularized on TV, and of course, in film. Corey Bruerton as family patriarch, Gomez gave an impassioned performance opposite to Esther Capitaino as his devoted wife Morticia who embodied the show's central theme while effortlessly delivering doses of dark humour and whit. However, there is always a scene -stealer and that honour belongs to Liam Charleston as the excitable Uncle Fester and unofficial narrator, in a performance that proves not only what an affectionate oddity Fester truly is, but his overall significance to those around him.
If this is now the standard of musical theatre that we can expect from Class Act Productions Inc. then I eagerly await their next show with great interest!   
THE ADDAMS FAMILY
(2016, dir: David Williams, Michael Mendez, Mandie Black )
You can follow cinematic randomness on Twitter and Facebook where you'll find all my cinematic exploits. Thank-you!